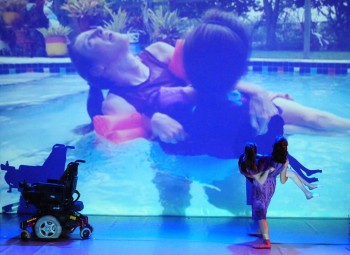 Karen Peterson and Dancers, a non-profit mixed ability dance troupe, will be performing Buoyant Dreams.
Byron Carlyle Theatre
500 71st Street, in Miami Beach
Dec. 11th at 4 and 8 p.m.
The production was created by four well established female artists, who joined forces to create a two-part performance that will ignite the senses with visual and musical artistry.
Buoyant Dreams, choreographed by Karen Peterson, is danced by able and disabled dancers, who explore how they relate to each other through dance and I Will Catch You is a contemporary dancework, choreographed by Joanne Barrett and performed to live jazz by The Wendy Pedersen Jazz Trio.
Visual artist, Maria Lino and Peterson collaborated to create Buoyant Dreams, which uses projected images of the disabled dancers in and out of water as an interactive backdrop to the mixed-ability performance. The dancers and images mirror each other creating a visually stunning and emotionally charged experience for audience members.
Lino had been working on a series about water for about three years when she approached Peterson about an interdisciplinary collaboration related to buoyancy and freedom of the human body in water.
"I explored and documented the possibilities of buoyancy and movement in water of dancers with physical challenges and how they relate to fully-abled dancers in such environments through video and digital media. I experimented with images of varying scale, angles, details and compositions, interweaving them with the choreography of Karen Peterson, creating a closely knitted performance of both disciplines," said Lino, who won the Cintas Foundation Award in 1975-76 and 1976-77 .
The other half of the performance, titled I Will Catch You will be danced to live music by The Wendy Pedersen Jazz Trio's newest work, Boy Meets Girl, and choreographed by Barrett , who has been teaching dance for over 24 years and was acknowledged as best dancer of the year by Time Out London.
Barrett's works will be performed in an intimate setting reminiscent of a smoky jazz lounge, where the audience is meant to feel as if they are part of the performance. And though most of the performance is choreographed, she has created moments where dancers improvise to scatting by singer, Pedersen, or to one of the trio's instruments – piano, bass and drums.
One of the pieces in I Will Catch You will be performed with the pianist, who will be in the house, close to the audience.
"I am excited about the collaboration and the opportunity to create feeling and imagery based dance structures and dance outbursts to improvised solos by jazz musicians," said Barrett, who focuses on connecting with space, energy and emotions through precise sculpted movements.
Proceeds from this event will go to Karen Peterson and Dancers, a non-profit mixed ability dance troupe established in 1990. A graduate of The Boston Conservatory, Peterson has received numerous choreographic fellowship awards from Division of Cultural Affairs, Department of State and the Miami-Dade Department of Cultural Affairs.
The troupe promotes dance as a multi-cultural and inclusive art form and does extensive community and world outreach through workshops, video lecture demonstrations and performances. The troupe has traveled to places, such as, Trebinje, Bosnia , the VSA International Showcase in Washington D.C. and the Ruth Eckerd Murray Hall in Clearwater.
This season marks 21 years since Petersen founded the mixed-ability troupe and she is optimistic about the group's future and its many possibilities.
"With able-bodied dancers you have a hundred choices. With disabled dancers there are limitations, but it is these limitations that challenge me and inspire the creative solutions that help us evolve each year," said Peterson.
Peterson will be holding auditions for dancers in the beginning of next year. For more detailed information call 305-298-5879.
There will be two performances of Buoyant Dreams and I Will Catch You at 4 and 8 p.m. Dec. 11 in the Byron Carlyle Theatre, 500 71st St. There will an after party and fundraiser at the The New Hotel, which is walking distance from the theatre. Tickets are $15 – 25. VIP seating and admission to the after party will be available to $25 ticket holders. Tickets are available at 305-298-5879, at the window in the Byron or Colony Theatres or at www.ticketmaster.com or call Ticketmaster at 866-448-7849.
Karen Peterson and Dancers' work is supported by Citizens Interested in the Arts; The Children's Trust; the City of Miami Beach Cultural Affairs Program, Cultural Arts Council; the Florida Department of State, Division of Cultural Affairs, the Florida Arts Council and the National Endowment for the Arts; the Jewish Communal Fund: Marvin Leibowitz; the Miami-Dade County Department of Cultural Affairs, the Cultural Affairs Council, the Mayor and the Miami Dade County Board of County Commissioners; The Miami Salon Group; Norton Viney Private Foundation; Robert and Anne Altman, The Mildred Pallas Levenson Dance Foundation and other individual contributors.