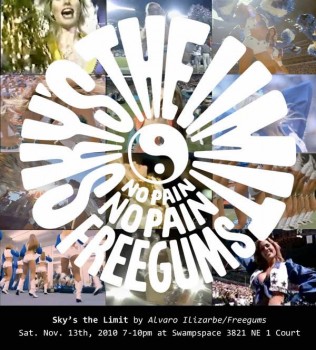 "Sky's the Limit" by Alvaro Ilizarbe
Nov 13, 2010, 7-11pm
swampspace gallery
3821 ne 1 court
miami design district
swampspace.blogspot.com
Swampspace presents "Sky's The Limit" a solo exhibition by Alvaro Ilizarbe/Freegums. This show will feature a large scale projection of clips of American pastimes and Juke songs that are layered and mixed into dance music videos. The artist is superimposed on the video embracing the moment by dancing and celebrating.
This new work portrays our cultures' indulgence of guilty pleasures through entertainment. The video strives to satisfy our never-ending desire to have fun and be entertained, invoking a feeling of momentary fulfillment.
Sky's The Limit by Alvaro Ilizarbe
Saturday, November 13th, 2010 7-10pm
at Swampspace 3821 NE 1 Court
this is a "one night only" event