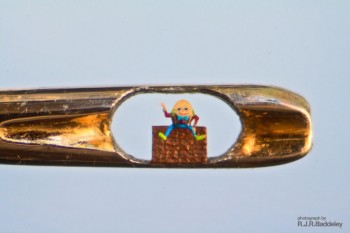 The Small World Of Willard Wigan Comes To Miami
Internationally renowned micro-sculptor opens gallery in Midtown Gallery with the globe's tiniest and priciest art
Willard Wigan Midtown Miami 3252 NE First Avenue
Opening day Friday, Nov. 12
First public viewings from 11am to 6pm
Private VIP reception (by invitation only) 7:30 to 10pm
The gallery operates until Monday, Dec. 6
www.wiganart.com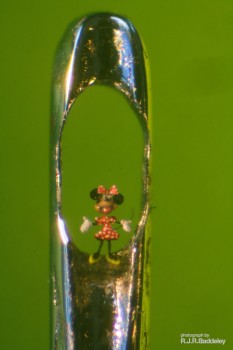 The enchanting world of Willard Wigan makes its debut in Miami for Art Basel with 58 pieces–most formed in the eye of a needle, visible only by high-powered microscopes in custom cases. Highly anticipated pieces include Little Miss Muffet, Cameron Diaz, Mega Yacht "Hope" and the first showing of Cupid—arguably the smallest piece of art ever created measuring 385.77 micron (equal to one millionth of a meter). Prices range from $25,000 to over $100,000.
Awarded England's Member of the British Empire (MBE) honor by the Queen herself at Buckingham Palace, and TED Achievement Award, Wigan's internationally acclaimed work will be unveiled at his inaugural exhibition in Miami and opening of his own gallery in Midtown Miami.
Alonzo Mourning acts as "celebrity curator" for an invitation-only opening night in celebration of Wigan's downsizing of "The Three Kings" (Miami Heat's Big 3), along with Heat dancers, mascot and special appearances by Heat players.
The gallery operates until Monday, Dec. 6, and donations of $5 are requested to tour the gallery, benefitting special educational programs, including Odyssey of the Mind and The Dyslexia Foundation.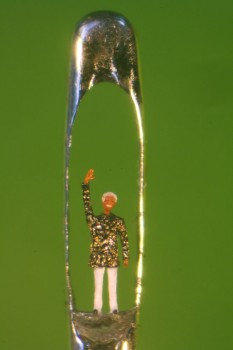 BACKGROUND: An extraordinary micro-sculptor whose work has been described as the "the eighth wonder of the world," Willard Wigan's masterpieces cannot be seen by the naked eye–only viewed through a high-powered microscope. Perhaps equally amazing is the personal story of success and struggles Wigan endured and overcame to achieve the acclaim and respect he now enjoys. Suffering from undiagnosed dyslexia, Wigan found solace and peace within his own private fantasy world of nature and art. Many of his sculptures are only three times the size of a blood cell and each piece – fairies, animals, movie stars – typically sit framed in the eye of a needle, or on the head of a pin—making him the "Micro Angelo" of the art world.