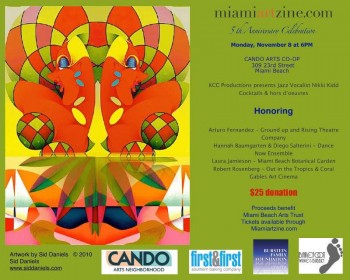 miamiARTzine.com Celebrates 5th Anniversary
at CANDO Arts Co-Op, Monday, November 8
Monday, November 8 from 6 to 9 pm
CANDO Arts Co-Op, 309 23rd Street, Miami Beach
Event Will Honor Local Arts Leaders
miamiARTzine.com, the biweekly online publication which covers the South Florida Arts scene, will celebrate its 5th anniversary at a cocktail reception on Monday, November 8 at CANDO Arts Co-Op on Miami Beach.
A highlight of the evening is the presentation of the 3rd Annual miamiARTzine.com Visionary Awards, so named for the ability of the honorees to think outside the box and envision and work toward a better Arts landscape. This year's award recipients are:
Arturo Fernandez, Co-Founder, Producing Artistic Director, Actor and Director of Ground Up & Rising (www.groundupandrising.org) theater and film company.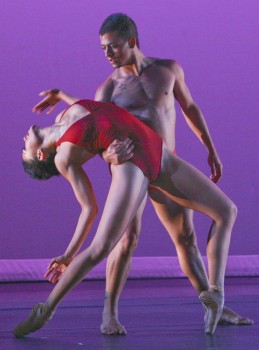 Hannah Baumgarten and Diego Salterini, Artistic Directors, Dance Now Ensemble (www.dancenowmiami.org)
Laura Jamieson, Executive Director of the Miami Beach Botanical Garden; registered tour guide in the Miami Beach Architectural Historic District
Robert Rosenberg, Founding Artistic Director of the Out in the Tropics GLBT Contemporary Performing Arts Festival, and Director of the new Coral Gables Art Cinema.
In addition to the awards ceremony, jazz vocalist Nikki Kidd will deliver a lively performance, courtesy of KCC Productions. Cocktails and hors d'oeuvres are generously donated by Barefoot Wine & Bubbly and First & First Caterers. The celebration also includes a silent auction, with tickets to many of South Florida's exciting arts venues.
Miami Beach artist and miamiArtzine supporter Sid Daniels is the featured artist, with his exhibition "Flavors, Phobias and Fantasies" on display at CANDO Arts Co-op.
miamiARTzine.com is a program of the Miami Beach Arts Trust, whose mission is to raise awareness and educate the public about the importance of the Arts. Publisher and Miami Beach Arts Trust chair Harvey J. Burstein conceived the idea of an online publication to better serve South Florida's arts community and arts lovers.
Editor James Cubby has taken the publication to a new level, adding a blog, several photo galleries and expanding the editorial lineup. The enthusiastic response from the community has contributed to the growth of miamiARTzine.com to more than 500,000 hits per month.
Each issue of miamiARTzine.com contains original articles and photographs by local writers and photographers who volunteer their time and talent to inform readers about what is happening in the arts in South Florida. miamiARTzine.com has also served as a career conduit for these contributors, as many of its writers and photographers who have been tapped for other assignments based on their work being seen in, or the contacts they've made through the publication.
miamiARTzine.com's 5th Anniversary Party takes place on Monday, November 8 from 6 to 9 pm at CANDO Arts Co-Op, 309 23rd Street, Miami Beach. Suggested donation for the reception is $25 per person, with all proceeds to benefit the Miami Beach Arts Trust. For more information, please call (305) 535-2448, email mbat@miamiartzine.com or visit www.miamiARTzine.com.