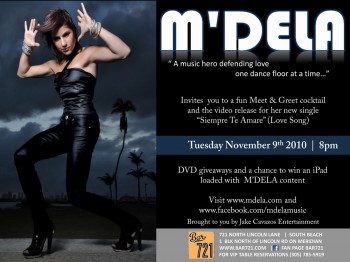 Bar 721 – M'DELA Greet and Meet Cocktail Party
Tuesday, November 9th 2010, 8:00pm
Bar 721
721 N Lincoln Lane
Miami Beach, FL 33139
M'DELA "A music superhero defending love one dance floor at a time…"
and Bar 721 would like to invite you to a fun Meet & Greet cocktail and the Video release for her new single "Siempre Te Amare" (Love Song) based on The Cure's classic hit.
…DVD giveaways and a chance to win an iPad loaded with M'DELA content.
For more information visit www.mdela.com and her facebook page.
M'DELA Bio:
As a little girl, M'DELA would roam around her living room in Lima, Peru, holding her plastic recorder as a microphone and singing along to the songs of ABBA, Olivia Newton-John, and The Cure. Who knew that her 'kid' performances would evolve into a long music career?
Always rooted in the music, she fell in love with the dance music of the 80s and 90s and absorbed all the pop and rock influences from Madonna, Cyndi Lauper, Blondie, New Order, Erasure, The Cure, Flock of Seagulls, Eurythmics, B-52's, Michael Jackson, and Softcell.
"Siempre Te Amare" came to life with her adaptation of the The Cure's "Love Song" in Spanish, "it really spoke to me…" confessed the singer/songwriter and in her words she said, "it reflects the longing for true love and, at the same time, the promise that love will triumph over evil."
The song was produced in Mexico City by the country's top remixing producer Charly Gutierrez (DJ Carlos G) whose work includes over 400 remixes from top selling artists such as Paulina Rubio. The video was shot in South Beach with the famous Miami skyline in the background. The production is ready for a 2010 fall release.
M'DELA's venture into the Dance Music world stems from a professional career as an award-winning songwriter and successful performances in Latin America.