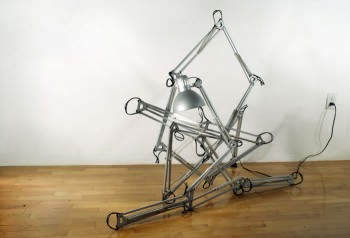 Nicholas Arehart : Opening Reception : October 28th 7pm
October 28th, 2010, 7pm
Christopher Miro Gallery
71 East Flagler Street
Miami, FL
305.741.0058
7pm – 11pm
More Info.
The Christopher Miro Gallery proudly presents Improving Everyday Life for the Majority, a showcase of sculpture and video work by Nicholas Arehart. Opening Thursday, October 28th, 2010 at 7pm, this show marks the first solo exhibition at the gallery.
Named after IKEA's motto, Improving Everyday Life for the Majority, the exhibition reveals minimally colored, reductive sculptures created from furniture parts available at the Swedish superstore. In creating unique objects of value from these generic and widely accessible items, Arehart seeks to reverse the loss of the artisan brought on by the Industrial Revolution. Additionally, he challenges the role of consumerism as identity by beginning these works as a consumer and ending the process as an artist.
In addition to his IKEA objects, two videos will be on display. In An Illegally Downloaded Film, Arehart further explores manipulation of the mass produced by altering a major motion picture. Alternately, Autonomy extends his investigation into the transformation of the everyday.
Nicholas Arehart (b. Orlando, FL.) is a multi media artist living and working in Miami, FL.