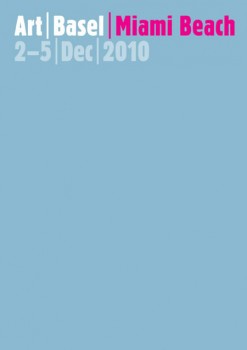 Be the First to Score an Official Art Basel Miami Beach 2010 Catalogue at Babalu Miami!
Online Pre-Order Available Immediately
Catalogues will be in-store November 1, 2010
Babalu Miami store
The Mews – 1111 Lincoln Road, Miami Beach
www.babalumiami.com
Babalu Miami is pleased to announce that they have been selected to be the exclusive retailer of the Art Basel Miami Beach 2010 Catalogue outside of the annual international art show. The boutique will have a limited number of Art Basel Miami Beach 2010 Catalogues for purchase available immediately through their website www.babalumiami.com (check Editor's Picks at the following URL: http://store.babalumiami.com/index.php?product=Basel2010&c=24). All online orders are scheduled for delivery during the first week of November. Due to high demand it is strongly suggested to reserve a copy by ordering online or via email to hello@babalumiami.com. The Art Basel Miami Beach catalogue is also available for advance purchase at the Babalu Miami store, located at The Mews – 1111 Lincoln Road, Miami Beach. The books will be available for collection and delivery from November 1, 2010.
The Art Basel Miami Beach book retails for $60 and features over 190 galleries presenting over 2,000 twentieth and twenty-first century artists; a daunting amount to absorb in four days of exhibition. With 698 pages, the Art Basel Miami Beach 2010 Catalogue provides a head start leading up to the show, a great reference during, and a memento after the show closes. Get ahead of the curve for what promises to be another amazing year of art indulgence during Art Basel Miami Beach.
Located in the upscale retail, dining and parking development at 1111 Lincoln Road, Babalu Miami redefines the notion of convenience and luxury. Situated in the heart of the building, Babalu Miami is the jewel in the crown and serves up everything from fine and fashion jewelry, artisanal perfumes, design books & magazines to exotic sweets, skin & body care and fresh flowers. A concise concept store that offers a design-driven and innovative mix to satisfy the savvy urbanite.
Babalu Miami is located at The Mews – 1111 Lincoln Road, Miami Beach, FL 33139, 305.538.0777. Hours of operation are Monday thru Saturday from 11am – 11pm and Sunday from 12pm – 10pm. Find them online at www.babalumiami.com, www.facebook.com/babalumiami and
www.twitter.com/babalumiami.