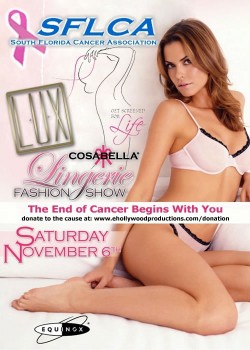 Cosabella Lingerie Fashion Show at LUX Nightclub
November 6, 2010, 12:00 a.m.
LUX NIghtclub
1439 Washington Ave.
Miami Beach, FL 33139
www.sflca.org
Cosabella is famous for its use of vibrant, cutting-edge colors. And it believes that a woman's lingerie should be able to reflect her every mood.
On November 6, 2010, LUX Nightclub Miami Beach will host Cosabella in its latest runway fashion show giving attendees a look at what promises to be the hottest fashions in lingerie. The show is in honor of October's Breast Cancer Awareness Month and to show support is bringing the spotlight to bear on the South Florida Cancer Association (www.sflca.org)and its Project SCREEN, a program that provides low or no cost early detection breast cancer examinations to women living in the financially disadvantaged communities in South Florida.
If you support Breast Cancer Awareness and want to do something for the community we all live in you may donate to Project SCREEN by going to www.ehollywoodproductions.com/donation.
We ask you to remember that your donation may save the life of a woman who is someone's wife, sister, mother, grandmother, aunt, someone who someone else loves and would like to continue to have them in their life. So PLEASE donate.