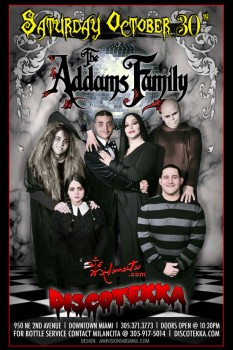 The Addams Family Halloween Costume Contest
Saturday October 30th., 10:30pm
Discotekka at Mekka
950 NE 2nd. Ave.
Downtown Miami, FL 33132
305-917-5014
www.milancita.com
As the Sun Sets in the horizon and the night suddenly becomes illuminated under the emerging face of the full moon, everything that was once a myth, rises from the dead and joins Discotekka Miami, www.milancita.com and The Addams' Family; a group of Individuals that are bound to make all your Hallow Dreams come true in the year's scariest night.
When the bridge to cross into the underworld lowers, our freaky entertainers Vegas Dion, SKY, TP, & GINA anxiously await your arrival to feed on your soul once again, and give you a spot in our Costume Contest, with over $3000 in cash & prices.
Bar boys serve their poison & give Spin Table Demons Jarell, MDW & Carlos G the fuel to lay their magic hands on the turning tables and raise hell.!!!
Are you ready to trick or treat?