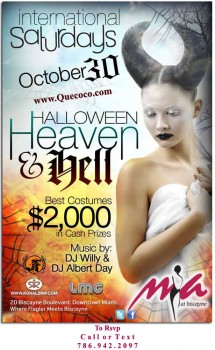 Saturday, October 30 at 10:00pm – 5:00am
Mia At Biscayne
20 Biscayne Blvd
Miami, FL
J.Fabian in Association with LMG Welcomes you to experience The Best Halloween Party! Saturday, October 30th, playing Dance, Pop and Top 40 hits during the night.
Music by DJ Willy and DJ Albert Day. Doors open at 10:00pm.
Halloween Is Here
Wear your Creepiest, Scariest or Sexiest Costume…Remember …
We are giving away $2,000 in cash prices…
Assuming That You Rsvp
Girls in Free all night
Guys in at a Reduced Price
21+.Dress code is strictly enforced.
Follow us on Twitter @MIAMIFABIAN
www.QueCoCo.com
J.Fabian 786.942.2097 MiamiFabian@hotmail.com