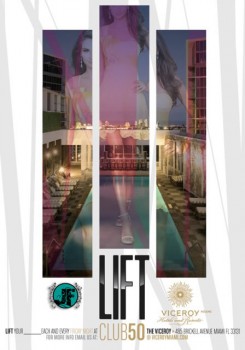 Friday's Upscale Event Lift Fridays At The Viceroy Hotel Club 50
Tomorrow at 10:00pm – 5:00am
Club 50, The Viceroy
485 Brickell Ave
Miami, FL
J.Fabian in Association with Ricky Tamayo and Friends
Brings You: Club 50 "Lift Fridays" At The Viceroy Hotel
Friday at Club 50 is what upscale nightlife in Brickell is all about with beautiful people and a great atmosphere. Inside Lounge Sounds by DJ Miguel G. bringing a steady mix of Top 40, Rock, House & Old School music. Outside Patio DJ Joseph Anthony Howls at the Moon as he keeps you Bouncing to Sexy HOUSE. See breathtaking views from one of Miami's most beautiful venues.
• This is by Invitation only. Plz RSVP
• Message me or text name & number of guests
• Great Bottle specials with RSVP
• MiamiFabian@Hotmail.com or 786.942.2097
Ask Me About The Bottle Specials That I Have For My Special Guests!
Upon Arrival Inform The Door Staff That You And Your Guests Are In Fabian's List
21+.Dress code is strictly enforced.
Follow us on Twitter @MIAMIFABIAN
www.QueCoCo.com
The entrance is complimentary assuming that you and your guests rsvp 786.942.2097