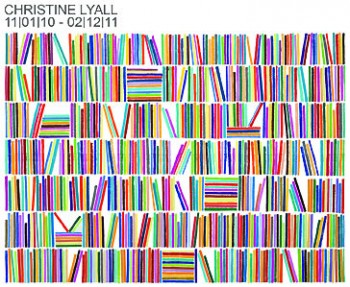 LOGO Projects presents Christine Lyall
11/1/2010-2/12/2011, M-F: 10am-5pm and by appointment
LOGO Projects at Ocean Ophthalmology Group
1400 NE Miami Gardens Drive, Suite 203
North Miami Beach, FL 33179
LOGO Projects in conjunction with Ocean Ophthalmology Group is pleased to present new works by artist Christine Lyall alongside an extension of Absolute Adriano, a survey featuring over 30 paintings and drawings by Adriano Nicot. Both collections will be on view from November 1st, 2010 through February 12th, 2011. Patients and the public alike are encouraged to visit Ocean Ophthalmology and peruse both showcases – LOGO Projects is an experiment in converting traditional professional business offices into alternative gallery spaces.
Christine Lyall's formal artistic practice began after being diagnosed with Attention Deficit Disorder. She found that creating art—especially complex, repetitive patterns and designs—helped to clear the cobwebs in her brain and calm her mind. Says Lyall, "The obsessive thoughts and nervous energy are still there, but I try to channel both into something productive and beautiful…I think everyone occasionally experiences feelings of fear, emotional conflict and self-doubt—especially when our dreams and our realities collide and we realize how different they are."
Lyall often explores these episodes of conflict in her work, representing them with imagery such as ropes snaking through holes dotting a canvas, or with fragments of faded material snagged on a piece of rusty barbed wire. Using everything from conventional painting and drawing materials to matches, fabric remnants and beads, Lyall creates works that range in style and complexity from simple line drawings to multi-layered, three-dimensional structures.
Although her artwork is inherently personal, Lyall's message is ultimately universal and simple: While the human experience is complex, confusing and sometimes painful, it also is beautiful and worth examining.
Adriano Nicot's Absolute Adriano highlights pieces in which the artist explores the mystical underpinnings of the daily. In Nicot's hands chickens, chairs, and babies alike are all imbued with a heavy yet inexplicable symbolism. A couple matter-of-factly holds hands under a hovering fish and clowns (or are these ladies of high fashion?) hollowly meet the viewer's gaze, daring us to laugh (or to not laugh?). The artist's austere marks are often strongly reminiscent of prehistoric cave paintings, his smoky compositions are always both timeless and reverent. Nicot's work is catalogued online: http://www.picturetrail.com/nicot
LOGO Projects is a non-profit program dedicated to matching artists and curators with professional business spaces. The program was founded by Kharis Kennedy, a New York-based artist, and Dr. Kevin Stewart. Dr. Stewart, a fellowship-trained glaucoma specialist from New York, relocated to Miami in 2008 to open Ocean Ophthalmology Group with Jesse Pelletier, MD, a cornea & refractive surgery specialist from Bascom Palmer Eye Institute.