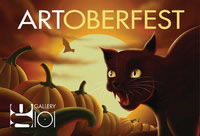 "Artoberfest"
Opening Reception
This Saturday, Oct. 23, 7-11pm
Location: Gallery 101
501 N. Andrews Ave.
Fort Lauderdale, FL 33301
www.thegallery101.net
Also: FAT Village Artwalk Night
Please Join Gallery 101 as we Celebrate October with great art and company…This event will be in conjunction with FAT Village art walk…
Come in your Halloween Costumes and enjoy the fun!
Art Prize Awards will be given away at the event:
1st Place: $250 cash & a 2-week featured exhibit at Gallery 101 ($750 value)
2nd Place: $100 cash & free wall at Gallery 101 for 2 months ($500 value)
3rd Place: Free wall for 1 month at Gallery 101 ($200 value)
Live Pumpkin carving. Learn to expertly carve with artisans.
Costumes are welcomed & encouraged for all guests.
Please join us as we feature the works of Cindy K.Shaw in a Show entitled: "An Introspective" Cindy will be the featured artist at Gallery 101 in conjunction with Artwalk at FAT Village and Gallery 101 Artoberfest October, 23.
This will be a great show with lots of fun!
Come out in your Halloween best
Refreshments served
Lot of neighborhood parking and also dedicated parking lot available!