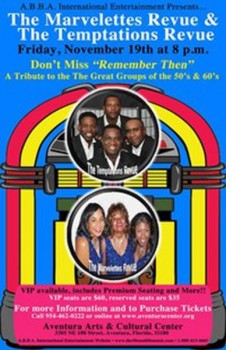 "Remember Then"
November 19, 2010, 8:00PM
Aventura Arts & Cultural Center
3385 NE 188th St.
Aventura, FL 33180
www.the50sand60smusic.com
Remember Then, featuring the Marvelettes and Temptations Revue, invites you to take a walk down memory lane to the days of the "drive in" and sock hops with the feel-good music from the 50's and 60's on Friday, November 19th at 8:00pm at the brand new Aventura Arts and Cultural Center.
Remember Then is a tribute to the music you could sing along with, music you could dance to and music you fell in love with featuring The Marvelettes Revue who were the first female group to sign on the Motown label, singing an oldie but goody, Please Mr. Postman, Motown's 1st Number One Single as well as Darling Forever & Too Many Fish In The Sea. Also, The Temptations Revue woos the audience with one of their many Motown Number 1 Hits such as My Girl, Ain't Too Proud To Beg & Since I Lost My Baby to name a few.
Tickets are available at 954-462-0222 or by visiting www.aventuracenter.org. Special 20% discounts are available for groups of 10 or more. Tickets start at $35 with VIP seats available for $60 which includes premium seating and an invitation to the Meet and Greet festivities following the performance.