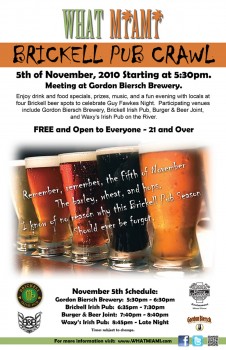 Brickell Pub Crawl
November 5, 2010, 5:30pm
Gordon Biersch, Burger & Beer Brickell, Brickell Irish Pub, Waxy's on the River
Downtown Miami
Website.
Get ready for the What Miami Brickell Pub Crawl – a FREE What Miami event celebrating the growing pub culture of Brickell / downtown Miami. Here at What Miami we have prepared an evening full of fun, drink and food specials, prizes, and neighborly interaction.
Come out on Friday, November 5th, 2010 starting at 5:30pm to celebrate Guy Fawkes night with us.
"Remember, remember, the fifth of November, the barley, wheat, and hops. I know of no reason why this Brickell Pub Season should ever be forgot."
Participating venues include Gordon Biersch Brewery & Restaurant, the Brickell Irish Pub, Brickell's Burger & Beer Joint, and Waxy's O'Connor's Irish Pub on the River. Each venue will be providing unique specials, only for What Miami's Pub Crawl participants. Look at the schedule below and join us anywhere along the way – just be sure to get a pub crawl wristband from someone!
Schedule and Specials (times are approximate):
5:30pm – 6:30pm: Gordon Biersch – $3 Marzen pints ("Silver Medal" at Great American Beer Festival) and $3 seasoned fries.
6:35pm – 7:30pm: Brickell Irish Pub – 2 for 1 on all drinks! This includes beers and alcohol.
7:40pm – 8:45pm: Burger & Beer Joint – $4 draft beers (excludes Chimay) and $5 Jameson shots.
9:00pm – Late Night: Waxy's Irish Pub on the River – $4 pints of Guinness and Smithwick's and $6 Margarita flatbread (pizza).
Stay tuned to What Miami for more upcoming details – see you there! Rain or Shine.