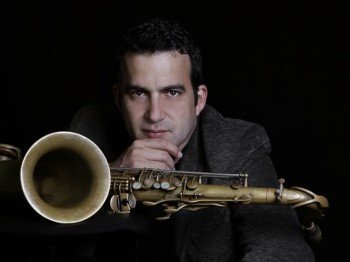 KCC Productions and Jazid present Jazz at Jazid with the Felipe Lamoglia Quartet
Tuesday, November 16, from 11 PM – 2 AM.
Jazid is located at 1342 Washinton Avenue, South Beach.
For more information call 305-673-9372 or visit jazid.net.
Felipe Lamoglia is a Grammy-winning saxophonist, composer and arranger. Born and educated in Cuba, he is a graduate of the prestigious Superior Institute of Art (ISA). By the age of 18 he was a member of Cuba's acclaimed dance band, NG La Banda. In 1992 he moved to Brazil where he lived for seven years, absorbing the country's musical and spiritual wealth and playing with great artists such as Raul de Souza, Arismar do Espirito Santo and others. With Bocato he recorded two albums and participated in the Montreux Jazz Festival. While in Brazil, Felipe founded his own quartet, Tumbao, and taught at the University of Free Music in Sao Paolo.
In 1999 Lamoglia relocated to the U.S. where he immediately began performing with the late Celia Cruz. In 2001 he began playing with Grammy winner Arturo Sandoval, performing all over the world and recording on Trumpet Evolution, as well as two DVD releases: Live at the Blue Note NYC and Live at the Ann Arbor Summer Festival. In 2004 he joined Grammy winner Gonzalo Rubalcaba, recording on his Grammy-nominated album, Paseo (Blue Note).
In 2006 Lamoglia arranged and played on Ignacio Berroa's debut album Codes, also released on Blue Note and nominated for a Grammy. In 2007 Felipe contributed as arranger, performer, and composer for Arturo Sandoval's Grammy-winning album, Rumba Palace.
Throughout the years he has continued to develop his solo work and in 2007 released his first solo CD, Dimensions, recorded in Brazil. This album incorporated Felipe's Afro-Cuban roots with a blend of Brazilian music and straight-ahead jazz. He is currently promoting his quintet, Afro-Cuban Beats.
Felipe has shared the stage with musical giants such as Herbie Hancock, Michael Brecker, Wynton Marsalis, Eldar, Dafnis Prieto, Ignacio Berroa and many others, participating in Major Jazz Festivals in the U.S. and abroad including JVC, Playboy, Newport, Henieken Jazz, Red Sea and in venues such as Blue Note, Iridium, Jazz Standard, Yoshi's, Dizzy's Club Coca Cola and many more.