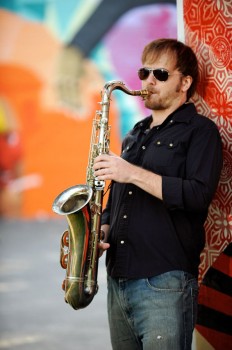 KCC Productions and the Van Dyke Café
present:
Brian Wolfe & Audio Lobo
Thursday, October 21, at 9 PM
846 Lincoln Road, South Beach
305-534-3600
Immersed in the Miami local music scene, saxophonist Brian Wolfe has performed and recorded with many local acts including his own Audio Lobo, The Spam Allstars, Nicole Henry, Jesse Jackson, Suenalo, Diogo Brown, Batuke Samba Funk, The Square Egg, Raw B Jae and the Liquid Funk, Toty Viola, Hashbrown, The Kind, and many others. Audio Lobo is Brian's brainchild. Creating a new wave in the local scene with their freshly instrumental funk/jazz sound since 2007, Audio Lobo has been garnering praise from various music-loving audiences around South Florida. With an original blend of instrumental funk/jazz and Latin jazz focused on heavy grooves, Audio Lobo is a mood-evoking ensemble that impacts audiences leaving a lasting impression.
Featuring:
Brian Wolfe, tenor sax
Ted Zimmerman, trumpet
Camilo Velandia, guitar
Diogo Oliveira, bass
Nomar Negroni, drums
The Van Dyke Cafe
KCC Productions