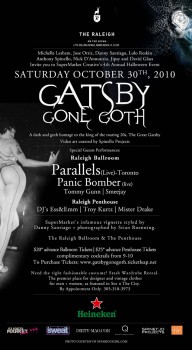 THE RALEIGH HOSTS "GATSBY GONE GOTH" HALLOWEEN SOIRÉE
Saturday, October 30, 2010
9:00 PM to 3:00 AM
The Raleigh
1775 Collins Ave.
Miami Beach, FL 33139
305.534.6300
www.raleighhotel.com
On Saturday, October 30, 2010, The Raleigh hotel will transform its elegant ballroom and 6,000 square-foot penthouse into the backdrop for the "Gatsby Gone Goth" Halloween costume party. A gloomy homage to F. Scott Fitzgerald's literary classic, The Great Gatsby, this event is the fourth annual era-themed happening presented by SuperMarket Creative's Michelle Leshem and Ocean Drive Editor at Large Jose Ortiz. They will be joined by a panel of Miami tastemakers including: TARA, Ink. co-principal Nick D'Annunzio; Vogue Italia Fashion Stylist Danny Santiago; Sweat Records owner Lolo Reskin; Spinello Gallery owner Anthony Spinello and NBC Miami photographer Jipsy; along with sponsors
Dirty-Mag.com, Heineken, Quintessentially and Spinello Projects.
Upon entering the hotel's lobby, guests will experience a darker side of Jay Gatsby's Roaring 20s, posing for pictures alongside an experiential vignette (photographed by Stian Roenning) that shines a brooding light on the opulent mansion. The Ballroom will feature live performances by Toronto-based synth-pop group Parallels, who will make their Miami debut alongside Panic Bomber. Tommy Gunn and Smeejay will also be in The Ballroom laying down their signature cult classic beats. DJs of-the-moment Ess & Emm, Troy Kurtz and Mister Drake will provide musical direction in The Penthouse, accompanied by video art curated by Spinello Projects. Patrons will enjoy complimentary Heineken / Heineken Light lagers from 9 PM to 10 PM, which will later be available for a cost of $5.00. Stash Wardrobe Rental (featured in Sex & The City) is the official costume retailer for "Gatsby Gone Goth" and offers guests haute prohibition-era looks, though all costume types are welcome.
Advance ticket purchase fees are $25.00 for The Penthouse (based on availability) and $20.00 for The Ballroom. Admission fee is subject to increase for tickets purchased after 9:00 PM on October 30, 2010. Tickets are available for purchase at www.gatsbygonegoth.com.
One of Miami's most cherished landmarks, The Raleigh celebrates its 70th anniversary of fashion, elegance and glamour this year. The oceanfront hotel, with its expansive Oasis sanctuary of private cabanas and famed Esther Williams baroque pool, has been the backdrop for films and photo shoots, and host to countless events. Built and designed in 1940 by famed architect L. Murray Dixon, one of the most prolific architects of South Beach's historic Art Deco District, guest rooms are adorned to match, with the fabrics and style of the 1940's, featuring period furnishings and terrazzo floors. A stunning 3-bedroom, 6000 sq.ft. duplex penthouse with 1,950 sq.ft. terrace and outdoor shower crowns this grande dame of South Beach. The Raleigh's Martini Bar was recently named of the "World's Ten Best" by Details and The Restaurant serves Florida cuisine with a South American influence in a romantic outdoor garden setting. www.raleighhotel.com.