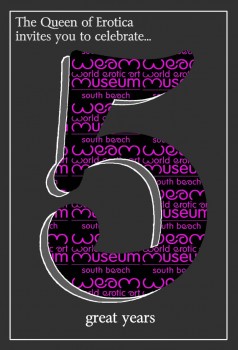 The Queen of Erotica Naomi Wilzig welcomes her court: The Queens of South Beach to celebrate 5 Years of the World Erotic Art Museum.
October 16, 8pm-12m
1205 Washington Avenue, Miami Beach, FL 33139
At the corner of Washington Avenue and 12th Street
Tel: 305.532.9336 | Toll Free: 1.866.969.WEAM | Fax: 305.695.1209
weam.com
Highlighting the evening during which Ms. Wilzig will deliver a lavish buffet and entertainment that will cheer on all who attend, will be famed performance artists Geraldine and Shanaya. Adding to the glamour and fun will also be divas Adora and Victoria.
$15, Must be 18 or older to enter.
Free for members.
The World Erotic Art Museum is proud to announce that proceeds will benefit the Interdisciplinary Stem Cell Institute at the University of Miami School of Medicine.
Sponsored by:
42 Below Vodka
Interdisciplinary Stem Cell Institute at UM School of Medicine
Wire Magazine
Miami New Times
Greater Miami Convention & Visitors Bureau
Miami Beach Chamber of Commerce
South Florida Concierge Association
Welcome and Bienvenidos Visitors' Magazines
Miami-Dade Gay & Lesbian Chamber of Commerce.
Photography is permitted. No photographs taken in the museum may be reproduced, distributed, or sold without written permission from the museum.
Parking garages are conveniently located at 13th Street and Collins Avenue, and 12th Street and just West of Washington Avenue. Metered street parking is available, but please be sure to heed all residential zone parking restrictions when parking in South Beach. As a reminder, on all non-holiday weekdays from 7am to 6pm parking is permitted in the residential zones of South Beach.