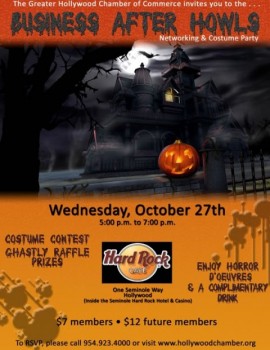 Business After Howls
Wednesday, October 27, 2010, 5 pm – 7pm
Hard Rock Cafe
1 Seminole Way
Hollywood
Located in the Seminole Hard Rock Hotel & Casino in Hollywood!
www.hollywoodchamber.org
Join the Greater Hollywood Chamber of Commerce for the annual Business After Howls Costume & Networking Party!
Network with your fellow gouls and goblins for another horrific business after hours.
Hors d'oeuvres and drinks will be served.
Prizes for the best costumes!
*No masks allowed in casino.*
Registration is required! Please call 954.923.4000 or visit www.hollywoodchamber.org
Thank you for using Soul Of Miami!