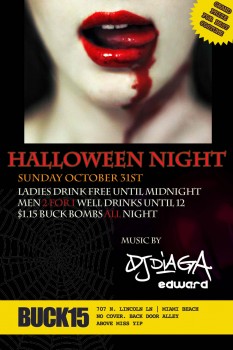 HALLOWEEN at BUCK15
10/31/10, 9pm.
BUCK15
707 N.LIncoln Ln.
Back door alley above Miss Yip
buck15.net
This Halloween at buck. Girls drink free until 12 and guys get 2-4-1- well drinks until 12+ $1.15 Buck Bombs all night. Best costume wins a $100 Buck bar comp. W/DJ DIAGA.
Thank you for using Soul Of Miami!