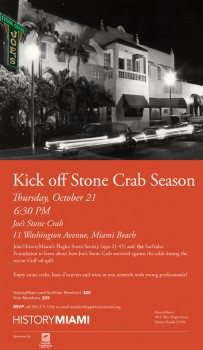 Kick Off Stone Crab Season
Thursday, October 21
6:30 PM
Joe's Stone Crab
11 Washington Avenue, Miami Beach
Join HistoryMiami's Flagler Street Society (ages 21-45) and the Surfrider Foundation to learn about how Joe's Stone Crab survived against the odds during the Gulf Oil spill.
Enjoy stone crabs, hors d'oeuvres and wine as you network with young professionals!
HistoryMiami and Surfrider Members $20
Non-Members $35
RSVP to 305-375-5356 or email membership@historymiami.org
Thank you for using Soul Of Miami!