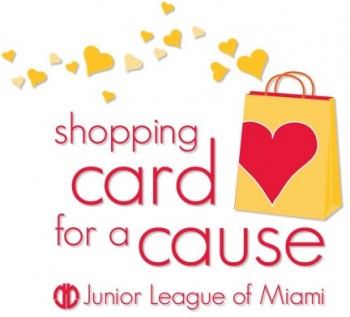 Shop 'Til You Drop!
Junior League of Miami Fundraiser Offers Big Savings with Even Bigger Community Returns
www.jlmiami.org
It's time once again to shop 'til you drop – all for a great cause! The Junior League of Miami (JLM) is sponsoring the 3rd Annual Shopping Card for a Cause fundraiser with 100 percent of the proceeds benefiting the mission of the JLM, an organization of more than 1,000 women dedicated to the empowerment of Miami's women, children and families.
With the purchase of a $50 Shopping Card for a Cause in-the-know shoppers can receive a 20 percent discount at more than 125 participating merchants throughout Miami from October 23 through November 7. Some participating retailers include Elie Tahari, Vera Bradley, J. Crew, H&H Jewels, The Savoy Hotel, along with many others.
"The Shopping Card for a Cause is great way for people to save money on holiday gifts all while giving back to their community," said Jennifer Burchard, co-char of the Shopping Card for a Cause fundraiser. "It really is a win-win situation for everyone involved."
The proceeds from the purchase of just one Shopping Card for a Cause provides five or more books for impoverished elementary school children in the JLM literacy programs, three school uniform sets for a child in transitional housing as a result of domestic violence, and two holiday gift for a child in need.
For a full list of retailers or to purchase a Shopping Card for a Cause, go to www.jlmiami.org. Cards are on sale now and can also be purchased from JLM volunteers and participating stores.
The Junior League of Miami, founded in 1926, is an organization of approximately 1,000 women sharing a common vision to empower Miami's women, children, and families to conquer tomorrow's challenges and to build a united community. The mission of the Junior League of Miami is to promote voluntarism, develop the potential of women and improve communities through the effective action and leadership of trained volunteers. Its purpose is exclusively educational and charitable. The Junior League concentrates its resources to make a significant impact on our community within the areas of homelessness, family violence, early childhood education, children's & women's health and foster care. This year, in addition to providing $100,000 in direct funding, another $600,000 in volunteer hours will be dedicated to the community for projects that address our five focus areas. For more information, visit www.jlmiami.org.