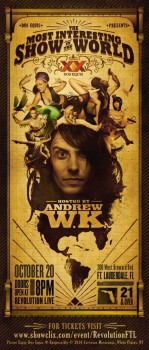 Dos XX presents The Most Interesting Show in the World!
Andew W.K.
Revolution Live
200 West Broward Blvd
Ft. Lauderdale, FL 33312
Wed. Oct 20, 2010 at 8:00pm
Admission free with RSVP and complimentary Dos XX will be served. Guests must be 21 & Over.
Join us for an extraordinary evening celebrating interesting talent while the Dos XX flows at the bar. Curated by the Most Interesting Man himself, acts from around the world have been brought together for this thrilling 17-city tour.
Infamous Rockstar, Andrew W.K., has been hand selected by the Most Interesting Man to host and perform in this year's showcase. Andrew is world renown for his ability to mesmerize crowds and amplify parties. Joining Andrew on stage will be the great Hungarian illusionist, the Great Zimmet, burlesque star Cherie Lily, and many other mind blowing talents.
Want A Sneak Peak?
Event Is First Come First Served. Early Arrival is strongly advised.
Must Rsvp Here For Your Free Tickets