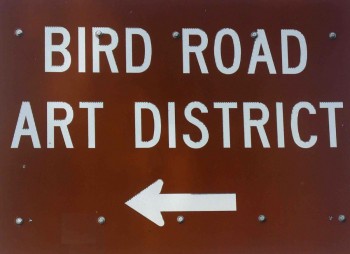 Bird Road Art District – Art Walk
Saturday, October 16, 2010, 7:00-10:00 pm
Throughout the Bird Road Art District (BRAD)
The Bird Road Art District (BRAD) is located just east of SR-826 (Palmetto Expressway) & south of Bird Road (SW 40th Street) to SW 48th Street and to SW 72nd Avenue
Join us on Saturday, October 16 from 7:00-10:00 pm and experience where creativity is inspired. Go behind-the-scenes, visit open studios and gallery exhibitions, meet the artists, enjoy poetry readings and music, and indulge in an explosion of flavors served from gourmet food trucks. Come get inspired and be part of a creative process!
Visit:
Accent Alternative Art Space
Aperture Studios
Ana Maria Sarlat
Caudart Gallery & Studio
Ediciones Malgon
Edward Berounsky at Architeknics
Erik Speyer Studio
Esteban Blanco Art Studio
G Peralta Fine Arts
Gina Guzman Stained Glass Studio
Ilisastigui Studio
Lambertini Art
Madero Art
MANO Fine Art Studio/Project Space
Miami Press Workshop
Nestor Arenas Fine Art Photography
Nkinsi Projects
Ray Azcuy Art Studio
Rodolfo Chavarriaga Art Studio
Rofle Art Studio
Romero Hidalgo Artists'Studios
Join us every 3rd Saturday of the month from 7-10 pm for the Bird Road Art District's Art Walk.
Click here to view mapof particpating studios/galleries.
Maps will be available at all participating studios and galleries. For more information contact 305.467.6819.
Join us on facebook-Bird Road Art District