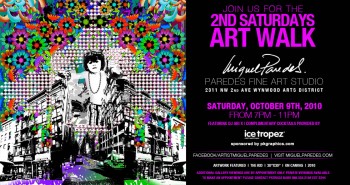 Local Artist Miguel Paredes To Unveil New Works
During Wynwood Arts District's 2nd Saturdays Art Walk
Urban realist to host cocktail reception at Paredes Fine Art Studio
Saturday, October 9, 2010. From 7:00 p.m. to 11:00
2311 NW 2nd Ave. Miami, FL. 33127
Celebrated local pop and multi-media artist, sculptor and urban realist, Miguel Paredes, will continue making his mark in the Wynwood Arts District during the bourgeoning neighborhood's monthly "2nd Saturdays Art Walk" on Saturday, October 9, 2010. From 7:00 p.m. to 11:00 p.m., Paredes Fine Arts Studio will be open to the public offering guests a chance to view new, never-before-seen art work while enjoying complimentary cocktails by Ice Tropez and live music by DJ Ari X.
Paredes was born in New York and is of a Latin American descent. He is an artist who combines the exhilarating sense of New York City's graffiti art with the skill and perceptiveness of a true exceptional artist. Growing up 72nd Street in the Upper West Side of Manhattan, Paredes exuded early signs of artistic ability and accepted an invitation to New York City's prestigious Fiorello La Guardia High School of Music and Art – immortalized in the musical and movie Fame – in the early 1980s. His studies at Fiorello coincided with the explosion of street culture in the city. Paredes drew inspiration from notorious pop artists like Andy Warhol and Keith Haring and plunged into the world of graffiti and pop art taking the name "Mist" as his moniker.
Another influential figure in Paredes' artistic career is his mentor Ronnie Cutrone. Cutrone was Andy Warhol's immediate assistant at the Factory during the notorious pop artist's most productive and prestigious years. To Paredes, his mentor's paintings are the essence of pop: colorful, lively and highly accessible. Cutrone's constant use of bright and fluorescent colors not only influenced Warhol's return to such hues, but shaped Paredes' color palette choices as well. Paredes' piece "Ronnie is that you?" pays homage to Cutrone and features one of Paredes' sons painted on a vintage Mickey Mouse bed cover. The child represents the artist looking for Ronnie.
In the late 80s, Paredes left New York to come to then burgeoning Miami Beach, FL. in search of new inspiration. He fell in love with the city and immediately submerged himself in its thriving art community. Almost 20 years later, Paredes remains a Miami resident and has established himself as a respected artist. In addition, he is owner and CEO of one of the most successful printing companies in the U.S., PK Graphics, and is happily married with three children which are his most current muses.
At Paredes Fine Arts Studio, the artist will exhibit select pieces and sculptures from collections such as Los Niños, Urban Dreams and Pulgha & Birds.
With Los Niños Paredes has taken what he calls "the best masterpieces I have ever created in my life," his children, and made them the subjects for his revealing drama about the timeless hopes of all parents and the resolutions needed to face the unknown battles of the future. The entire experience of these paintings is shockingly honest, risky and flies in the face of three decades of neo-Pop and post-modern ideas that no image is truer or deeper than the next.
In the artist's Urban Dreams series, Paredes explores the parallel spectrums of color and tone and modifies the urban landscape, while combining photographic realism with the rich graphic elements of floating vines, flowers and leaves. Paredes animates New York's brownstone crayons by darkening the darkest corners, layering one vanishing point across the other, squeezing streets and alleys into exaggerated vertical tunnels, and balancing brick, grit and white space into an ambiguous and deceptive surface.
Paredes' Pulgha & Birds Digital Art Series showcases his most recent invention, Pulgha, and its colorful world of Birds, Geishas and puckish, child-like tricksters. Paredes' admiration of Japanese anime is apparent in this collection, however, the artist's imaginative hands re-create this specific language and re-enchant the original concerns – all through his Latin and urban sense of digital mysticism and narration. Pulgha means flea in Spanish, but there is nothing small or itchy about this rebellious character. Instead, Pulgha and Co. are creative emissaries, seeding innovation, luring younger generations of anonymous house-bound gamers and online exiles out into a public world of human interaction and community. Paredes donated one of his latest pieces "Pulgha World" and created a mural in the Wynwood Arts District near his new gallery.
Paredes Fine Arts Studio is located at 2311 NW 2nd Ave. Miami, FL. 33127. For more information, please visit www.miguelparedes.com.