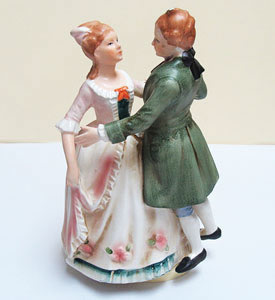 Growing Up
Agustina Woodgate
Main Library, Auditorium, 101 W. Flagler St. • 305.375.2665
Performance: Thursday, October 7
Doors open at 6:30 p.m., performance begins at 7 p.m.
Dancing couple figurine, ca. 1970s, ceramic music box.
Permanent Collection of the Miami-Dade Public Library System.
Agustina Woodgate's work is about relationships. She investigates the ways we compose our rituals, traditions, and narratives through the materials and places around us. The improvisational performances in her Fairy Tale Series are structured like stories with conflicts and a beginning, middle and end. She constructs settings or stages from materials found at the exhibition site and invites musicians to play live during the performance. The artist's close friends or family members perform along with her; their actions play out the conflicts at the heart of well-known fairytales. Woodgate then records these bent fairytales; the exhibition will include photographs from previous performances based on Rapunzel, Hansel and Gretel, and Sleeping Beauty.
Growing Up is based on the English fairy tale "Jack and the Beanstalk." For this one night performance, Agustina will wake up sleepy corners of the Main Library auditorium, make magic with mysterious library collections, and perform with Anthony Spinello as Jack.
ALSO:
The next day (Friday, October 8), come back for a special edition of the Reading Room with special guests Agustina and Anthony and artists' books from the Library's Permanent Art Collection–all in a strange little room with coffee and cookies.
The Reading Room: A Temporary Space for Artists' Books, Publications and Multiples
With special guests Agustina Woodgate and Anthony Spinello
Friday, October 8, 12-2 p.m.
Main Library, Children's Room Area
AGUSTINA WOODGATE explores the social narratives of human relationships, rather than independent and private space, as a theoretical and practical point of departure. She creates responses to these narratives through situations that unveil the tensions between the natural-becoming-unnatural, and the unnatural-becoming-natural as constructions of our surreal and very real human condition. Her work discovers illogical scenarios that appear in an otherwise realistic or even "normal" setting to explore transience in beliefs and behaviors, revealing unconscious liaisons between these two worlds. Working with available, at hand, and everyday resources contributes a very important element of the conceptual process. Woodgate works inclusively and socially, finding new access points for communication to create public, intensive, and process-oriented works. She approaches the creation of a work as an ongoing discovery, and fold chance-elements, surprises, and synchronicity into everything she makes.
To find more about exhibitions and programs coming up this month, visit our website.