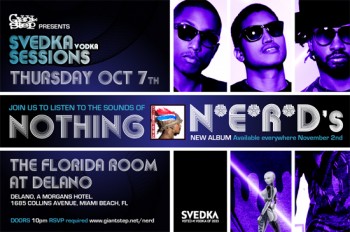 SVEDKA Vodka and Giant Step invite you to an exclusive opportunity to hear the sounds of Nothing, N*E*R*D's upcoming 4th album, which will be out everywhere on November 2nd. On Thursday October 7th at The Florida Room at Delano the listening party comes to Miami on its way across the country.
Entrance is free, but strictly RSVP only.
The Florida Room at Delano, A Morgans Hotel
1685 Collins Ave
Miami Beach, FL 33139
Whereas their first album, In Search Of…, was an imaginative, exploration of identities, their second album, Fly Or Die, sought out the range of genres and sounds that have influenced the group, and their third album, Seeing Sounds, grinded everything together, Nothing promises to be an album that delivers a brand new N*E*R*D sound, an album that amplifies the attitudes, style and persona that has made Pharrell, Chad and Shae the transcendent cultural icons they are today.