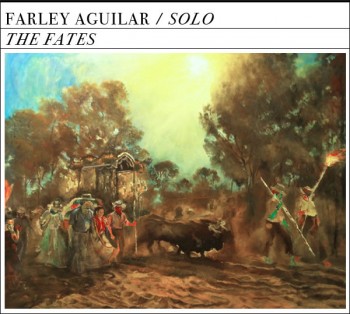 Spinello Gallery: 155 NE 38th Street, No. 101, Miami, Florida – 33137
Solo: Farley Aguilar | "The Fates"
Opening Reception: Saturday, October 9th, 7-10pm
Exhibition through November 3rd, 2010.
Spinello Gallery is proud to present the much-anticipated solo debut gallery exhibition of Farely Aguilar, "The Fates." The exhibition features a suite of haunting and mystical oil paintings, works on mylar, and video.
Fate: the principle or determining cause or will by which things in general are believed to come to be as they are or events to happen as they do. Unknowable forces from within us and outside of us determine the course our existence will take.
Aguilar's works are representations of this fatalism. The Fates are composed of three sisters, each having a part in determining human destiny and are all represented in his latest series. Aguilar explains, "Clotho, the youngest, spins your lifeline; Lachesis, the middle one, decides the length of your lifeline; Atropos, the eldest, cuts your life thread." All human endeavor is based on fighting against the power of fate. Science, religion, art, etc.., tries to establish stability, or control, over the precarious circumstances of existence. The eternal search to create truth causes more destruction than harmony. This is one of the fundamental contradictions of human nature. Ulf, an old Norse term for wolf, is the predominate subject within Aguilar's latest narrative. He is a pawn of fate at the micro level, or individual scale. His dual nature of both wolf and man create contradictions that he cannot understand. Aguilar notes, "Shakespeare's Macbeth had a great influence on the show and Ulf is a stand in for Macbeth. The witches, or Fates, conjure up spells on him. He must endure the destiny that has been casted upon him."
Spinello Gallery prides itself in exhibiting intelligent works of art in every medium by contemporary local Miami emerging artists. Spinello Gallery has become the playground for unorthodox and experimental artists who don't easily fit into the confines of the traditional gallery space. Spinello Gallery is steadily making headway in the Miami Art Scene and beyond becoming a contender in the Art World.