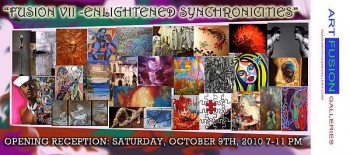 Opening Reception for "Fusion VII – Enlightened Synchronicities"
Saturday, October 9, 2010 from 7-11pm
Art Fusion Galleries, 1 NE 40th Street, Suites 3, 6, 7, Miami, FL 33137
www.artfusiongallery.com
Live music, hors d'oeuvres and refreshments will be served. You can call for more information at 305.573.5730 or email at info@artfusiongallery.com. Ongoing exhibition of the Brilliant works of William Braemer in Suite 3.
Art Fusion Galleries is proud to present our anniversary and Art Basel Exhibition, as well as our final exhibition of the 2010 art season. This group exhibition, titled "Fusion VII – Enlightened Synchronicities" will feature 32 dazzling, emerging, contemporary artists from around the globe. Come & join us at Art Fusion Galleries for our spectacular anniversary celebration & discover the beauty and passion of the fine arts as we continue to seduce and paint the world. Be sure to highlight this great event on your calendar.