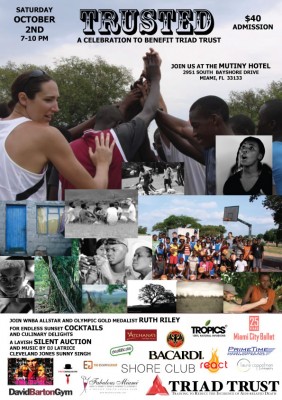 Benefit for TRIAD Trust
October 2, 2010, 7:00 PM – 10:00 PM
Mutiny Hotel
Mutiny Hotel
2951 South Bayshore Drive
Miami, FL 33133
www.triadtrust.org
Join us for an evening of great music, complimentary cocktails, fantastic food, free massages, a lavish silent auction and an automatic chance to win a pair of sold out MIAMI HEAT Tickets! Your $40.00 donation will help save and change lives in a region of South Africa where over 40% of the population has HIV/AIDS. Visit www.triadtrust.org to learn more about TRIAD Trust and see how your contribution will be used to affect change.