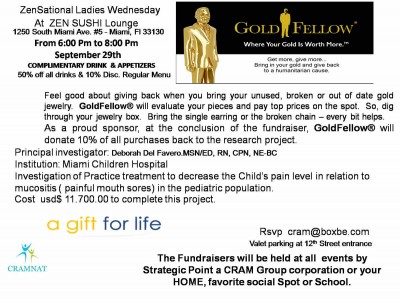 Be our guest at Zen Sushi.
Wednesday, September 29th
Our main focus is introducing, sharing, and becoming part of humanitarian and social charities. JOIN US at…
Zen Sushi Lounge
1250 South Miami Ave. #5 – Miami, Fl 33130
From 6:00 pm to 8:00 pm
Enjoy…A COMPLIMENTARY DRINK & APPETIZERS
Facebook evite.
Feel good about giving back when you bring your unused, broken or out of date gold jewelry. GoldFellow® will evaluate your pieces and pay top prices on the spot. So, dig through your jewelry box. Bring the single earring or the broken chain – every bit helps.
As a proud sponsor, at the conclusion of the fundraiser, GoldFellow® will donate 10% of all purchases back to our current research project.
Please RSVP by September 28th to
cram@boxbe.com or
Cynthia Nigro
Director, National Events
GoldFellow® Party
954-806-0611