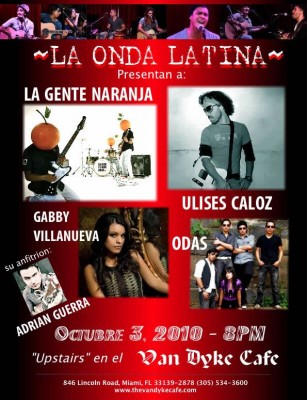 LA ONDA LATINA
OCTOBER 3, 2010, 8:30PM TO 12:30AM
UPSTAIRS AT THE VAN DYKE CAFE
846 Lincoln Rd Miami Beach, FL 33139
www.thevandykecafe.com
LA ONDA LATINA Presents: Ulises Caloz, La Gente Naranja, Gabby Villanueva, ODAS at Van Dyke Cafe
Cost: Free – Latin Rock/Pop – Spanish Rock/Pop
Come join us for a night of LIVE LATIN MUSIC in the Van Dyke Cafe new monthly music series "LA ONDA LATINA" featuring rocking performances by two of South Florida's most talented and musically powerful band LA GENTE NARANJA, ULISES CALOZ, ODAS, GABBY VILLANUEVA, and more….. you can't miss it!
Upstairs at the Van Dyke Café – 846 Lincoln Rd Miami Beach, FL 33139 – Phone: 305-534-3600
Show starts at 8PM! and it's FREE!
Organized by ADRIAN GUERRA and RANDY SINGER
LA GENTE NARANJA
La Gente Naranja is an energetic Ecuadorian Rock en Español band based in Miami, Florida. La Gente Naranja started in 2009 with band members Eddie Garcia (vocals and guitar), Jose Nouel (drums) and Diego Saa (vocals and bass guitar). The group made its first breakthrough in 2010 with the release of the music video for their first single "Luz al Sur", and their debut album of the same name. The band was born out of a sentiment shared by millions of people with a thirst for a new sound to identify their generation with…plus, they wear oranges on their heads!
ULISES CALOZ
Ulises Caloz is the "true independent artist." With his self-produced debut album, "9 years" in the making, Ulises Caloz presents us with 12 original pop/rock tracks filled with powerful lyrics and instantly appealing melodies. Ulises Caloz's self-produced debut album, "9 years" in the making, presents us with 12 original pop/rock tracks filled with powerful lyrics and instantly appealing melodies. Featuring some of Miami's finest musical talents, this album elevates the familiar sounds of today's mainstream latin music to a new level. In songs like "Que Se Sentira" (What does it feel) a beatleish styled ballad produced alongside well re-known latin producer and artist *MonteRosa*, you will undoubtely connect with the nostalgic behind many of Ulises Caloz's songs. "Te Estoy Rogando " (I Am Begging You), an uptempo track that dweels on the desperation for forgiveness of a man's human imperfections which has cost him the love of his life. With his
independent release of "9 years", Ulises celebrates the latin pop/rock music that has influenced him since his early years growing up in his natal Cali, Colombia and pays tribute to all those who with hard-work and perseverence are able to bring to an audience the magic of their craft.
ODAS
One of the best Latino Pop/Rock bands to come out of South Florida. By popular demand, ODAS returns! Their new album "Al Final" is packed with amazing songs packed with stories of love, triumph, pain, and anguish. ODAS' members, Karla Iriarte (vocals), Calors Iriarte (electric guitar), Victor Hugo (acoustic guitar and vocals), Camilo Machado (bass), form a powerful musical force and a "band to watch." Formed in 2005, ODAS debut album "5 Sentidos" exploded in the South Florida scene and they became one of the most talked about bands. ODAS has a distinctive sound that stays true to their Bolivian roots while taking Rock/Pop to new heights and represents the potential that can be achieved as an independent band.
GABBY VILLANUEVA
Born in Mexico City and raised in Los Angeles, where she studied drama and dance, Gabby Villanueva has successfully and independently jumped-started her career. She released her 10-track album on iTunes and national retailers (without a record label) and turned heads (and ears) onto her sound, a mix of mariachi and pop-rock. She was the first indie artist to reach the top-10 on iTunes Latino. Villanueva uses her songs to talk about important issues like immigration, war, and of course, unrequited love. In 2002, she was a contestant on Telemundo's reality show Protagonistas De la Música, and worked for Telemundo has an entertainment reporter. Gabby Villanueva is one of the few young multi-talented performers who has captured the hearts of audiences from all over the US and Latin America with her music and charismatic personality. The small screen has been part of her life, working with the most important national Spanish-speaking networks in the United States. Gabby worked on her debut album, titled "Mundos Diferentes" (Different Worlds), as singer, songwriter and producer. Most recently Gabby sang the National Anthem for the Florida Marlins at the Dolphin stadium with a sold out crowd.