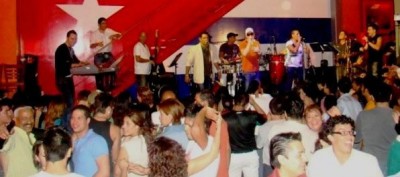 Viernes Culturales/Cultural Fridays
9/24/10, 6:30 pm – 11 pm
SW 8th St. between 14th & 17th Aves. Miami
Website.
Come to Little Havana's free monthly arts and culture festival this Friday for hot Latin music, 17 art galleries, street artists and artisans, outdoor dining and more.
TimbaLive is our headline act for the main stage at 15th Avenue and SW 8th St., and is sure to get you moving with their swinging rhythms and addictive melodies. On the main stage we're also featuring flamenco dance, a mariachi band and cirque acts.
At our sponsor Verizon's tent, sign up for a raffle to receive a limited edition TimbaLive T-shirt signed by all band members, a TimbaLive CD and free merchandise from Verizon.
Local artisans, artists and authors will be selling their work, and many of the art galleries have new exhibits. Beginning at 7:30 pm. at the Viernes Culturales Art Gallery (742 SW 16th Ave.), internationally renowned painter Buruj Salinas will be welcoming visitors to a reception for the new group exhibit he is curating, "Miami Abstractions 2010", featuring vibrant and compelling abstract art by talented local disciples of his work: Blanca Caraballo, Ina Esteva, Tony Núñez, Celia Reigle and Emilio Héctor Rodríguez.
Legendary local historian Dr. Paul George will begin his free walking tour of Little Havana beginning at 7:00 p.m. in front of the Tower Theater (15th Avenue and SW 8th St.); this month he is focusing on Cuban Memorial Boulevard.
During the festival, local galleries, cigar stores and other venues will feature live music including traditional Cuban son, boleros and charanga, merengue, Afro-Cuban rumba and Uruguayan drumming.
For dancers, the options are many beyond the festival's main stage. Beginning at 8 pm, Miami Casino Dance Studios is offering a free salsa casino demonstration and class on SW 8th St. between 16th and 17th Avenues. Restaurants such as El Pub are hosting salsa dancers on their patio, and other venues such as CubaOcho and Casa de Tula offer plenty of dance space inside. At DAF Studio on the second floor of 1501 SW 8th Street, tango enthusiasts can take a beginner or intermediate tango class at 9:00 p.m. and then practice until midnight.
Throughout the evening, street performers will entertain passersby, and many restaurants will offer outdoor dining for those who want to "people watch." The newest restaurant in the area is 2B Asian Bistro (1444 SW 8th Street), a hip and elegant restaurant serving high quality Thai food and sushi.
Viernes Culturales / Cultural Fridays
Ph: 305.643.5500
www.viernesculturales.org