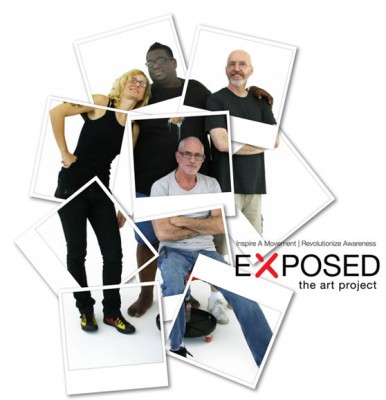 Exposed The Art Project at Gallery 101
September 25, 2010, 7pm to 11pm
Gallery 101, 501 N. Andrews Ave. Ft. Lauderdale, FL.
Gallery 101
501 N. Andrews Ave
Suite 103
Fort Lauderdale, FL 33301
954-882-1861
EXPOSED: The Art Project will be at Gallery 101
This special night at the Gallery 101 will coincide with the FAT Village Art Walk Night on Saturday, September 25th.
EXPOSED:The Art Project, a not-for-profit art collaboration of 5 artists, in an effort to raise awareness of many pressing humanitarian issues both nationally and around the globe, is about to "expose" themselves to the public. www.thegallery101.net
EXPOSED has just launched themselves into the public eye with hopes of becoming the next big thing in the art world by helping others with their art. Plans are in the works for major projects around the country to help those less fortunate and bring about awareness of humanitarian issues.
EXPOSED artists Barry Gross, Adela Holmes, Presscott McDonald and Neal Fox will be on hand to explain the idea and goals behind this amazing project of art, awareness & goodwill.
In an effort to raise needed startup funding, we have some amazing GIFTS for you:
1) EXPOSED ARTIST AND CELEBRITY & FASHION PHOTOGRAPHER (Kimora Lee Simmons and Fifty Cent are part of his past work) Presscott McDonald, is offering a mini photo session on the night of the event of yourself or loved one for a charitable donation of $25 to EXPOSED: The Art Project". (You may decide to use this fashionable photo for your facebook profile or as a gift for yourself or friends!) Check out Presscott's work at: www.presscott.net (Look for Presscott on Facebook as well.)
2) Also for a $25 donation, PHOTOGRAPHER ADELA HOLMES is offering an 8×10 print of her unique photography. A limited supply is available, so first come, first served. See her work at: www.adelaholmes.com (You can find Adela on Facebook as well.)
3) SILENT AUCTION – ARTIST BARRY GROSS will be auctioning off an original framed Oil stick drawing on tinted handmade rice paper, 24 x 44″ with bids starting at only $500. (Barry's large paintings sell from $35,000 and up, and his drawings retail from $2,500 up, so this is a great opportunity to have an original Barry Gross at a fraction of the price, and know that you have helped a great cause)
Check out Barry's work at: www.iconeditions.com (Barry is also on Facebook.)
Talented award-winning Songwriter and Filmmaker Neal Fox's work will be seen in EXPOSED: The Art Project's first video presentation. Neal's work can also be seen at: www.wireduck.com (Look for Neal on Facebook)
Sponsorship opportunities are available. Framing has been generously donated by Jerry's Artarama of Deerfield Beach for Barry Gross' original drawing, which will go on silent auction.
Donations may be made at the event in cash or by credit card through Paypal. Even though we are offering these gifts, we still appreciate any donations, no matter what amount.
If you cannot make it to the event, but still would like to donate, you can donate any amount of $1 or more here: http://www.kickstarter.com/projects/exposedtheartproject/exposed-the-art-project-0
There is NO CHARGE FOR GUESTS TO ATTEND THIS EVENT. Come by and see how EXPOSED: The Art Project wants to change the way we think about art. We welcome everyone who wants to come.