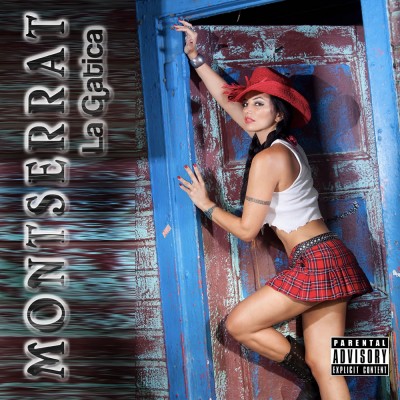 In Miami, we mix Spanish and English when we speak, we drink café con leche, we smoke cigars and drink mojitos, we dance salsa and enjoy fun under the sun almost 365 days a year, despite our rainy days. But in Miami we also live and celebrate our diversity and we are proud of it every single day, that's how we have artists such as Montserrat who brings Miami's new sound with her new production proudly made in Miami.
Montserrat's new album it's an example, "La Gatica" has the sazon of the Tropics spicing it with Trinidad and Tobago's artist "Terra B" who adds the soca/reggae flavor, inviting to dance near the beach, no shoes required just feeling the beat and going with the waves.
On "Concierto para dos" a "neo latino soul" song Montserrat shows her ability as a singer/songwriter who touches the heart of the listener with simple lyrics about real life facts, on the guitar Gloria Estefan's guitarist Marco Linares adds his amazing touch.
On the Latin Jazz version of "The Man I love" there is nothing more surprising than this great standard made to order: danceable and with "mucha salsa", at the piano Kiki Sanchez who also produced the whole album shows his virtuoso Latin Piano and his jazzystic passion.
On "What should I do" Montserrat's soultry vocals and songwriter free spirit takes us to a different level of composition while this is the perfect song for a Sunday morning with the very sexy saxo of Arturo Arango.
"Yad Anuga" featuring Ricky Martin's back up vocalist "Cheito Quinonez" brings the best of both worlds: Afro Cuban Guaguanco and Middle Eastern modulations, we enjoy the percussions by Daniel Berroa mixing bongos and the pottery ethnic drum "Udu".
On "Teach me tonight" and "Se stasera sono qui" the first a standard made on the old school version and the classic Italian song on an unexpected samba arrangement.
On the bass Edilio Bermudez, other drums and percussions by Los Temerarios's drummer Paul Votteler and Reinier Guerra. Recorded by Kevin Borda and mastered by The Hit Factory "Criteria" Engineer Israel Piti Najera.
And if this wasn't enough part of the proceeds of the sales of Montserrat's new album will benefit Miami based foundation "Commmon Ground for Conservation" a Non Profit 501 ( c ) (3) to help protect
Mother Earth and educate on sustainability. The Cd is on sale now on major retailers including Itunes, Napster, Amazon, Rhapsody, Ilike, Reverbnation, Cdbaby and more.
To learn more about Montserrat, like her Facebook page and make her your friend in Facebook, follow her on Twitter and be friends on Myspace or go to her Official Site: www.montserratfranco.com to get all the links.
Who is Montserrat?
www.montserratfranco.com
It's an island with a volcano in the Caribbean, it's a mountain and a monastery between Spain and France, it's a cathedral in Bogota, Colombia, it's also a fearless woman with a gypsy heart who traveled the world with a backpack, wrote songs and sung for a living, lived with the Guarani natives in South American jungles and the Bedouin people in the desert in the Middle East, speaks seven languages (Spanish, English, Guarani, Italian, Portuguese, Hebrew and Ladino), and has a multiethnic background that can be traced to medieval Spain.
Miami's own Montserrat Franco has always had the need of expressing herself through music because her destiny was to be a woman of art. As the Dominican newspaper El Siglo says, "Montserrat is a woman whose soul is pure art". Montserrat's wild spirit broke the rules after she switched from the classical music scene in major European theaters and performing in Israel to her new life in Miami, far from the struggles of being a music student and globetrotter. But her artistic soul haunted her because it's impossible to stop a gypsy on her journey.
I remember when I first heard Montserrat in concert singing at the majestic Rector's Palace in Dubrovnik, Croatia in the summer of 2000. It's amazing how someone can have the ability to sing with a symphonic orchestra one day, with a jazz band the next day and then with a folk band the following day or simply with her guitar in the streets or a park.
Montserrat is returning to the music scene this time with some of the songs she wrote years ago. In this production, she shows all of her faces. Originally from a small town in Paraguay, she has turned into a metropolitan polyglot singing in various tongues and preserving her pride in being a latina. She screams her Latin flavor in La Gatica and in Un Poquito, featuring Trinidad & Tobago's artist "Terra B".
Music is an entry into the soul of other cultures and countries. Let Montserrat show you the wealth of her globetrotting as you listen to her sing on this album in Spanish, English, Italian, and Hebrew.
As Bobby Ramirez wrote about her : "Miami's newest singing sensation", mixing spiciness, sensuality, island and Caribbean rhythms, Mediterranean and jazzy touches. She represents Miami's spirit, her eclectic personality who refuses to be 'like somebody" or influenced by somebody, Montserrat's music is unique and she has still a long way to go…This is just the beginning. Would you stop a gypsy?
Susanna Zaraysky (Author of Language is Music, Journalist, Educator) www.createyourworldbooks.com
Language is Music: Over 70 Tips to learn foreign languages is a book on how to use music and the media to learn foreign languages. Published by Kaleidomundi.