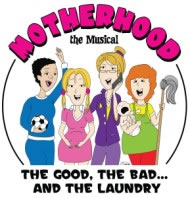 Motherhood the Musical
Friday, September 24, 2010, 7:30PM
Rose & Alfred Miniaci Performing Arts Center
3100 Ray Ferrero Jr. Blvd.
Ft. Lauderdale, Fl. 33314
www.motherhoodthemusical.com
A baby is just the beginning. Motherhood is for life…
Motherhood the Musical features a cast of South Florida's favorite actresses. The show opens at a baby shower for Amy, played by Lisa Manuli, the naive 20-something who is about to deliver her first child. Amy gets an earful about motherhood, including the good, the bad and the ugly; the diapers, the dirty laundry and the sleepless nights from her three more experienced girlfriends. Barb, played by Laura Turnbull, is the over-worked, underpaid mother of five. Brooke, played by Margot Moreland, is the lawyer who works too much and doesn't spend enough time with her kids. And Tasha, played by Kareema Castro, is the single mom who's struggling to juggle it all.
Motherhood the Musical features 18 original songs written or co-written by Sue Fabisch, the #1 hit songwriter in Nashville, TN, and Billboard Magazine Top 10 Comedy Artist, who also wrote the play. Fabisch wrote the songs to amuse herself as she made her own way through the trials of motherhood. They include "Welcome to Motherhood," "Mommy, Mommy, Mommy," "Minivan," "Costco Queen," "I Leak," "Baby Weight Blues," and the #1 hit "The Kids are Finally Asleep."
Thank you for using Soul Of Miami!