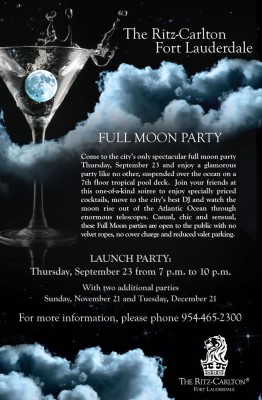 Full Moon Party
Thursday, September 23, 7 p.m. to 10 p.m.
The Ritz-Carlton, Fort Lauderdale
One North Fort Lauderdale Beach Boulevard
Fort Lauderdale, FL 33304
Website.
Come to the city's only spectacular full moon party Thursday, September 23 and enjoy a glamorous party like no other suspended over the ocean on a 7th floor tropical pool deck. Join your friends at this one-of-a-kind soiree to enjoy specially priced cocktails, move to the city's best DJ and watch the moon rise out of the Atlantic Ocean through enormous telescopes. Casual, chic and sensual, these Full Moon parties are open to the public with no velvet ropes, no cover charge and reduced valet parking.
LAUNCH PARTY:
Thursday, September 23 from 7 to 10 p.m.
With two additional parties
Sunday, November 21
&
Tuesday, December 21
For more information, please phone 954-465-2300