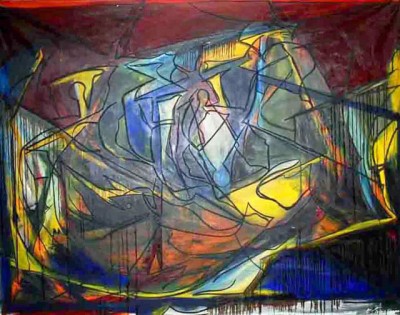 Borinquen Gallery presents a Solo Exhibition by Igal Fedida
Symphony of Colors (A Journey Through My Colorful Roots)
Opening Reception: Thursday, September 16th, 2010. 6:30 – 10:00 p.m.
Location: Borinquen Art Gallery. 100 NE 38th Street, Suite #3. Miami, FL 33137
Dates: From Sept 16th through Oct 9th, 2010
After the reception gallery will be open by appointment only
Closing Reception: Saturday, October 9th, 2010. 7:00 – 10:00 p.m.
Admission: Free
www.borinquenhealth.org
The Borinquen Art Gallery will be showcasing its first solo exhibition by Miami-based artist Igal Fedida titled Symphony of Color (A Journey Through My Colorful Roots). Mr. Fedida is an award-wining painter who has been recently awarded at the Biennial 2010 National Museum Ecuador and has received the Best Audience Choice Award at MOCA North Miami.
Igal Fedida, born and raised in Israel, moved to the United States at an early age to pursue a successful business career in construction, design and remodeling. Being of curious and deeply spiritual nature, however, he decided to take some time to get to know the world and he traveled to many distant and unusual pockets of our home planet. He enjoyed drawing, sketching and design since an early age and he discovered the love for photography during his journeys, capturing images of nature and people alike.
Returning to Los Angeles, he enrolled in intensive photography study program at the UCLA. Exploring the world of photography, his need for expression drove him to develop a unique form where he combined Polaroid photographs with water color in order to deepen the effect of the image. In doing so he discovered that his need to express the nature and the world that surrounds us far surpasses the limited potential of photography. Subsequently, as if an invisible hand pointed a direction, the magic door opened and he was pulled into the world of painting.
Completely self taught, over the time he developed his own fascinating style of contrasting images. His black and white collection clearly expresses his inner search of balance between order and chaos, good and evil and evermore constant yin and yang presence in life. On the opposite to this sharp collection stand abstracts filled with mesmerizing colors inspired by nature and God alike. Some of his paintings carry deep meanings about the creation and the world from "big bang" and Adam and Eve to modern day socialites while others are visually hypnotizing, energy filled abstracts of strikingly vivacious colors.
You can find Fedida at his Miami studio/gallery where he spend sleepless nights with a brush in his hand and a vision on his mind passionately driven to deliver to the world his ingenuous masterpieces.
For more information about local openings and events, please visit www.miamiartguide.com