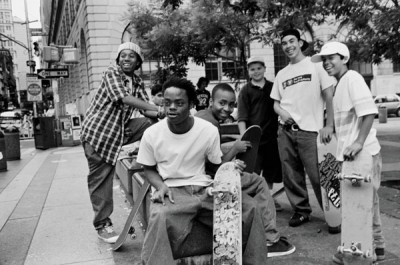 ARI MARCOPOULOS – NO CAUSE
Opening reception Saturday, September 11, 2010 8pm.
OHWOW
3100 NW 7 Avenue
Miami, FL 33127
305 633 9345
info@oh-wow.com
OHWOW is pleased to announce a solo exhibition of photographic work by Ari Marcopoulos. In his Miami debut, titled No Cause, Marcopoulos presents a series of images chronicling New York's fledgling skateboard scene from the early 90s. These photographs document the charismatic individuals composing this specific group of skaters and the urban locations they frequented. The work poignantly captures the mood of the time, and its pioneers, just as this now legendary skate movement began to take form.
In 1979, Ari Marcopoulos relocated from his native city of Amsterdam to New York. Fueled with enthusiasm and optimism, he quickly immersed himself in the downtown art scene, which eventually landed him assistantships with Andy Warhol and Irving Penn. During his early New York years, he shot intimate portraits of many vanguard personalities, including Jean-Michel Basquiat, Dennis Hopper, and Keith Haring. Later, his interest in the City's surfacing hip-hop genre prompted him to document its music, fashion, and assertive attitude. Through his involvement in capturing the aura of hip-hop culture, photographing icons like KRS1 and LL Cool J, he cultivated a friendship with the Beastie Boys, who he subsequently worked with on numerous projects, including Pass the Mic – a book of his previously unpublished black and white images of the band.
Marcopoulos' penchant for connecting with emerging subcultures drew him to the developing skateboard movement active in New York City during 1993. Black and white photographs and Polaroids from this influential period, as well as a series of large scale photocopied images, capture the youth and defiance indicative of the era. Candid photography, some close-up portraits and others full-frame city scenes, objectively translate the reality of this peripheral lifestyle, while they also manage to soften the otherwise deviant personas associated with the skate world. For three decades Marcopoulos acted as much as a cultural anthropologist as he has an artist. With this exhibition, he offers a window through which a view of back alley behavior and teenage angst is possible to glimpse from the lens of an outsider with unrestricted access.
Ari Marcopoulos exhibited work in the 2002 and 2010 Biennials at the Whitney Museum of American Art, New York, NY, and previous exhibitions include shows at The Berkeley Art Museum, Berkeley, CA; White Columns, New York, NY; New Orleans Museum of Art, New Orleans, LA; and PS1/MOMA, New York, NY. His work also appeared in publications such as The New York Times, Interview, Paper, and Blind Spot. His public collections include the Detroit Institute of the Arts, Whitney Museum of American Art, and the San Francisco Museum of Modern Art.
The opening of No Cause will coincide with the release of Stoopz, published by OHWOW. The 180 page book includes work from the exhibition, as well as additional images. www.oh-wow.com