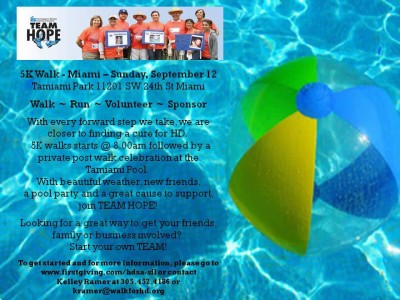 Hello friends, here is a great way to enjoy your Sunday morning….at the park for a nice walk, some light brunch and a dip in the pool.
Please join us this Sunday, September 12th @ 9am @ Tamiami Park for a 5K Awareness Walk. We are walking on behalf of those families that have Huntington's Disease, a rare genetic neurological disease. If you mixed Alherimer's, Parkinson's and ALS, you would have Huntington's Disease.
Even though this disease is rare, it does not make it is any less impactful to the people going through it.
REGISTRATION IS FREE…but a small donation is suggested.
To pre-register, go to: www.firstgiving.com/hdsa-sfl
or just show up at the pool at Tamiami Park between 8am and 9am
As for Huntington's Disease, is as devastating as it is destructive. Because it is genetic, if it runs in your family tree, you have a 50/50 chance of developing it. I know families that have a father taking care of his wife and his son at the same time because both of them have HD! It's intense. I can explain HD and if effects but I didn't truly understand until I started watching videos of
families sharing their intimate stories of their loved ones. The footage may be hard to watch but will help you realize why we are all so dedicated in making a cure a reality.
www.youtube.com/watch?v=65xf1olEpQM
www.youtube.com/watch?v=JzAPh2v-SCQ
(from our friend Jason in Jacksonville about his brother Daniel.)