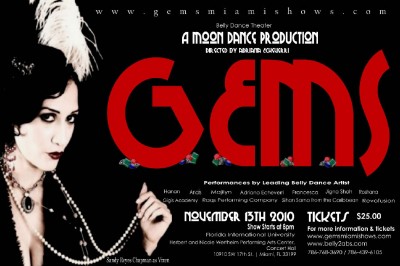 GEMS, empowering women through bellydance
November 13, 2010, 8pm
Florida International University (main campus)Wertheim Performing Arts Center, Concert Hall
10910 SW 17 Street
Miami, FL 33199
Website.
A beautiful production by Echeverri, inspired by the 1920's. An era when women were empowered.
Please visit our website for additional information on purchasing your ticket.
"GEMS" is the 5th event produced by Adriana Echeverri, and the second in the Unites States. With great amount of success in Europe, Adriana has come to Miami and founded Belly2Abs, a wellness dance studio in Coconut Grove. Empowering women through dance has been her goal for over a decade. GEMS is a full production with some of the best professional dancers in Miami. A production by women, for women; with the only purpose of empowering women through dance. Each year GEMS celebrates an era, this year we are happy to indulge the audience with the 1930's passion and love for dance. Inspired by the musical Chicago, GEMS will offer a night of glamour and much passion.
Some proceeds will be going to a non-profit organization. We have also partnered with The Women Study Center at The Florida International University to help create awareness through dance. We are estimating a large amount of people (600) to come to this event, and share some of the best performances choreographed by great dancers like; Hanan, Francesca, Anais, Majilyn, Jigna Shah, Revofusion, Siahn Sama, Roshana, Gigi's Academy, students from Lotus Dance Studio, and Adriana Echeverri.