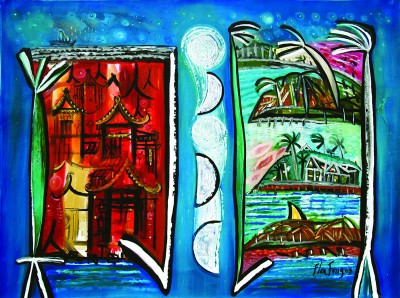 FLORA FONG & LI DOMÍNGUEZ FONG
THE MOTHER, THE SON: TWO ARTISTS, ONE PASSION
A BI-PERSONAL EXHIBITION OPENING
September 3, 7:00 to 10:00 p.m.
Cernuda Arte
3155 Ponce de Leon Blvd., Coral Gables, FL 33134
www.cernudaarte.com
The Mother, The Son: Two Artists, One Passion features the first bi-personal mother and son art exhibition in the U.S. of contemporary Cuban artists, Flora Fong and Li Domínguez Fong. The show will inaugurate at Cernuda Arte on First Friday, September 3, with an Opening Reception from 7:00 to 10:00 p.m.
Flora Fong and Li Domínguez Fong have traveled from Havana to the United States and will be present at the opening reception. Visitors attending the evening opening will have the opportunity to see this impressive gathering and meet the artists. The event is free and open to the public. The exhibition will be on view through October 20.
Showing together and sharing walls for the first time in a dual presentation, this display includes over forty paintings rendered by both artists. Also featured in the exhibition are six exquisite one-of-a-kind bronze sculptures executed by Flora Fong that reflect the realm of the artist's iconography.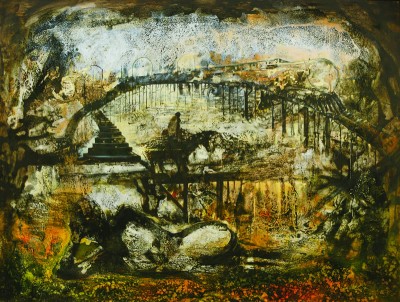 Juxtaposing the work of Flora and Li, one can see how they create their own yin and yang renditions of luminosity and darkness, vivacity and stillness, clarity and blurriness… The mother and son relationship has sound foundations of unity, and harmony, yet, their artistic manifestos unfurl different paths and scenarios. Mother and son can never be confused with each other. While both share a common ancestry and a passion for art, their work reveals a marked contrast of styles and subject matters.
Often delving into imagery deeply rooted in her Caribbean surroundings and Chinese ancestry, Flora Fong's work is brilliantly colored with sun-filled compositions. The tropical birds and fishes, the fruits, sunflowers, palm trees, and banana trees, the wind and the rain are Flora's everyday-life companions. The canvases and bronzes featured bring to view her masterful way of orchestrating the elements in a composition with forceful energy and originality. The artist's quest to integrate and renew influences, granted by her island's environment and those belonging to the millenary-eastern culture she has inherited, is clearly transposed in this showcase of her recent work.
Through intricate multi-layered images and textured surfaces that at times mutate or dissolve into abstraction, Li Domínguez Fong creates mixed media works that require participation from the viewer. In each of these, an atmosphere of solitude and abandonment haunts the composition. Scenes of alienated and adrift people abound… a sense of anonymity and melancholy prevails. Lost boats, hopeless journeys and staircases to nowhere are recurrent themes… the broken bridge, a frequent metaphor. The viewer is left with images to behold, not to decipher. And in many ways, this enigmatic language and play makes Li's compositions fascinating. An in-depth look at his body of work reveals a gifted young artist who has been handed a legacy of creative skills and is decidedly in the process of leaving his mark.
Two standouts included in the exhibition are Flora Fong's striking canvas, Siéntase en Cuba, (FEEL YOURSELF IN CUBA), (2010) and Li Domínguez Fong's mesmerizing work, A la Espera, (IN THE WAITING), (2010).
Flora Fong (Camagüey, Cuba, 1949) is widely admired and recognized as one of Cuba's foremost contemporary artists. She graduated from the National School of Art in Havana in 1970 and worked as an art professor at San Alejandro Art Academy until 1989. She has had an extraordinary career in the field of plastic arts with various one-person shows and participations in multiple group exhibitions. She has garnered several prestigious awards and acknowledgments throughout her life. Her works are included in numerous public and private collections around the world. The artist lives and works in Havana, Cuba.
Li Domínguez Fong (Havana, Cuba, 1978), graduated from the Escuela Elemental de Artes Plásticas in Havana. He continued his studies at the San Alejandro Art Academy where he graduated in 1991. He has had three one-person shows in Havana, and has participated in several fine art salons, festivals, contests and group exhibitions in Cuba, Europe, Latin America, Asia and the United States. The artist lives and works in Havana, Cuba.
Accompanying the exhibition is a full-color 36-page catalogue with an essay in English and Spanish by renowned Cuban professor, researcher and art critic, Yolanda Wood.
FLORA FONG
Es Preciso Cruzar las Grandes Aguas, (Crossing the Large Waters is Essential), 2009,
mixed media on canvas, 59 x 78 3/4 inches
LI DOMÍNGUEZ FONG
A la Espera, (In the Waiting), 2010,
mixed media on canvas, 58 3/4 x 78 inches