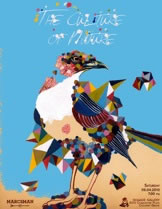 Nomade Gallery Explores The Culture Of Nature
Nomade Gallery – September Gallery Walk
3133 Commodore Plaza, Coconut Grove, FL 33133
Saturday September 4, 2010 – Monday October 4, 2010
To spotlight a new era of green attitudes, Nomade Gallery is putting modern-day tree-huggers center stage for September's Art Walk. One of the most distinct recent social changes in the United States has been the incredible refocus of popular culture on environment conservation and outcry.
In light of the turbulent turn the environment took in the past months, Nomade is pleased to announce it is dedicating September to the exploration of nature's many elements. Nomade is paying homage to the natural environment we live in through artwork depicting the raw and abstract allure and aggression of animals, plants and peoples.
Nomade will also have a suggested $10 donation box in place, in addition to beverages provided. All donations will go to Gulf Coast Oil Spill Fund, the official foundation administering the oil spill clean-up.
The artists interpreting the culture of the natural world are Miami natives Danny Catania and Samuel Gualitieri, New World alumni Reinier Gamboa and Juan Travieso, as well as Norwegian photographer Stian Roenning, Dominican photographer Aida Tejada and French sculptor Pierre Traversat.
The monthly Coconut Grove Art Walk will take place Saturday September 4 2010, from 7-10pm. Nomade Gallery is enveloped by a unique environment and urban grid which naturally extends the art space into the community. Nomade was opened this past February by esteemed French art enthusiast Brigitte Serfaty. The first Saturday evening of every month, Coconut Grove's galleries and shoppes put on a parade of local art, music and food open to the public.
ARTISTS: Danny Catania, Reinier Gamboa, Samuel Gualtieri, Stian Roenning, Aida Tejada, Pierre Traversat, Juan Travieso
For more information on Nomade, the artists and the Gulf Coast Oil Spill Fund, please visit: Nomade Gallery.
Gulf Coast Oil Spill Fund.
Reinier Gamboa.
Juan Travieso.
Stian Roenning.
Aida Tejada.