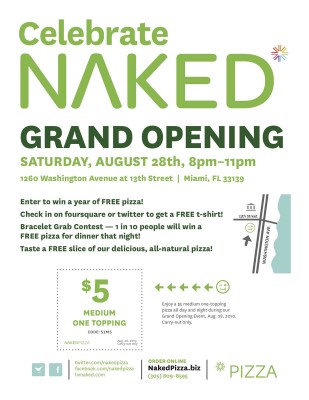 NakedPizza Miami Grand Opening Event
August 28, 8pm – 11pm
NakedPizza Miami
1260 Washington Ave. @ 13th St.
Website.
Join the NakedPizza Tribe for our Grand Opening Event. Free slices, fun swag! Miami Beach Mayor Matti Herrera Bower will do the ribbon cutting honors!
Miami, let's Get Naked*. Let's share an honest, straightforward pizza made from real ingredients. Let's start with a one-of-a-kind crust made from an Ancestral Blendâ"¢ of up to 10 grains, prebiotic fiber and probiotics (healthful cultures also found in yogurt) topped with an all-natural herbed tomato sauce and premium mozzarella cheese. Let's promise that there are no preservatives, added sugar, or freaky chemicals of any kind. And let's make it affordable – $4.99 for a 10" pizza that you can top with any of our unprocessed veggies or hormone and antiobiotic-free meats for $1.49 each. Let's feel good everyday, Sunday through Thursday 11am – 1am, Friday and Saturday until 4 am. Let's celebrate Naked*!
We're Officially NAKED in South Beach from NakedPizza on Vimeo.
*Pizza