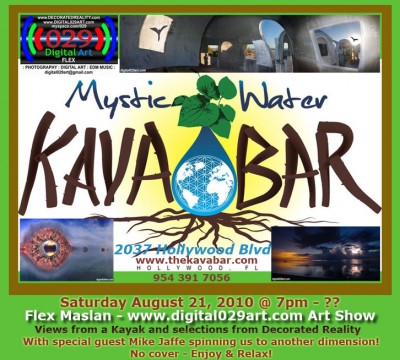 Flex Maslan : digital029art.com : Surreal / Panoramic Art Gallery Show feat music by Mike Jaffe
Saturday August 21, 2010, 9:30pm to 2am
Mystic Water Kava Bar
Mystic Water Kava Bar
2037 Hollywood Blvd
Hollywood, FL
954 391 7056
www.thekavabar.com
Come experience the uncommon and unusual photographic and digital work of Flex Maslan ( digital029art ).
For this show, selections from the Decorated Reality and Florida Bay series will be featured, including two very large (5 ft) panoramics, among about a dozen works!!
Special musical guest Mike Jaffe will be spinning us to another dimension!
No cover.
Open daily and nightly 2pm-4am, so come and check it out as part of your Hollywood Art Walk Monthly (same night)!
For more information, register into the fBook event.
and visit http://www.digital029art.com for more information and art.