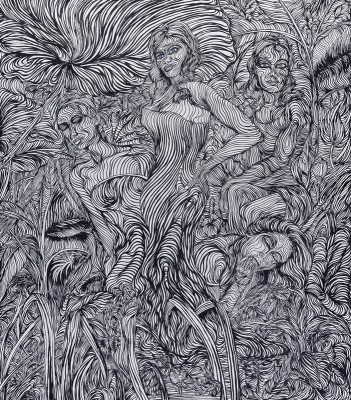 VIP launch party and artist reception during Second Saturday Gallery Walk
The opening exhibition is by contemporary artist Carlos Cabeza and is entitled Rhythmic Paintings.
Saturday, September 11 from 7-10 p.m
O. Ascanio Gallery
2600 NW Second Ave in the Wynwood Arts District
For more information visit here.
O. ASCANIO GALLERY TO OPEN IN WYNWOOD ARTS DISTRICT
Wynwood's newest gallery boasts rotating exhibitions of world-renowned Latin American modern and contemporary artists
Miami, FL – O. Ascanio Gallery is preparing to open in Miami's Wynwood Arts District. Owner and gallerist Oscar Ascanio, will host a celebratory opening and artist reception during the District's Second Saturday Gallery Walk on September 11, 2010. The opening solo exhibition, entitled Rhythmic Paintings, shows the dramatic work of Paris-based, Venezuelan contemporary artist Carlos Cabeza, and will be sponsored by Polar Beer and VeeV Acai Spirit.
Rhythmic Paintings is a series of works created by using a stream-of-conscious modality where Cabeza creates movement through curved, ebbless sequential patterns. The feminine form is prominent, as are vividly colored eyes that peer out through the thoughtful maze of strokes. The collection includes 15 works comprised of paintings, découpages and objects.
"Carlos Cabeza's work is based on continuity and the rhythm of movement within a space. His inspiration comes from a spiritual point-of-view and flows from his mind onto the canvas – almost as if whistling," said Ascanio. Renowned art critic and cultural historian Alfredo Boulton has said of him: "The individuality of Cabeza's expressiveness places him in a special niche within contemporary painting."
The exhibition, whereby five percent of the proceeds generated from sales of the Rhythmic Paintings series will benefit ECOMB, will be available for public viewing until October 3, 2010. From October 9th – November 7th O.Ascanio Gallery presents the Venezuelan contemporary artist Nanin. Finishing 2010 with a bang, the gallery will present an exciting collective of world-renowned artists, including Jesus Soto, Carlos Cruz Diez, Alejandro Otero, Victor Lucena, Victor Vasarely and Bernar Venet. The collective exhibit will run from November 13th – December 12th.
Born in Villa de Cura, Venezuela, Ascanio is an accomplished gallerist, artist manager, publisher and collector. He began his art career at the age of 17, while apprenticing with Alfredo Boulton. And in 1974 he co-launched Ediciones Macanao, a publishing company he formed with Boulton and op, kinetic artist Carlos Cruz Diez.
In 1978 he opened his first gallery, Estudio 1, in Caracas which was dedicated to promoting and selling the works of Jesus Soto, one of the world's most famous contemporary artists. And in 1984 he opened Galeria Oscar Ascanio also in Caracas where he featured artists that included Alejandro Otero, Edgar Negret, Lina Sinisterra, Victor Lucena, Francisco Salazar, Bernar Venet, Bernard Aubertin and Fernando Mignoni.
O. Ascanio Gallery is located at 2600 NW Second Ave in the Wynwood Arts District. For more information visit www.oascaniogallery.com.
Biography
Born in 1953 in Villa de Cura, Venezuela, Ascanio quickly ascended the ranks of Venezuelan society and style. At the age of 17, he immersed himself in art history and theory while apprenticing with the renowned Alfredo Boulton. An art critic, cultural historian and photographer, Boulton was instrumental in the development of Venezuela's modernist and contemporary art movement.
This experience and his affinity for art history led him to trade medical school for a Masters degree in economy from Universidad Catolica Andres Bello in 1972. Two years later, he launched a publishing company coined Ediciones Macanao with Boulton and kinetic, op artist Carlos Cruz Diez.
The company was named after a cocktail Boulton invented and dubbed Macanao while at his grand estate in Margarita Island with his wife Mirta, Ascanio and Cruz Diez.
Ediciones Macanao was dedicated to producing literature on the study of Venezuelan art and related topics. The company published a bevy of books on Venezuelan artists that included Jesus Soto, Hector Poleo, Armando Reverón and Rafael Monasterios. Also featured in Ediciones Macanao, was Simon Bolivar's iconography, among others.
In 1976, Ascanio collaborated in the organization of an exhibition of Soto's work in New York's Solomon R. Guggenheim Museum. Two years later he founded Estudio 1, a gallery dedicated to Soto's work, and became Soto's agent and legal representative. He also represented other emerging and established Venezuelan artists during this time.
Soto is regarded as one of the world's most famous contemporary artists. He is considered a forefather of kinetic art, and a number of his paintings can be found on the walls of the most prestigious museums or in the hands of respectable collectors.
Ascanio commuted between Paris and Caracas for four years starting in 1978 with the purpose of organizing art exhibitions. He also used this time to refine his knowledge of art history through liberal studies at Université Sorbonne, École du Louvre and Centre Georges Pompidou in Paris.
Ascanio put together retrospective exhibitions for Soto in 1982 in Madrid's Parque del Retiro and Fundación Juan March; In 1985, he organized the retrospective exhibition Soto Space Art in Miami's Center for the Fine Arts, and another retrospective exhibition for Soto was organized in 1990, debuting in Tokyo's Contemporary Sculpture Center and traveling to Osaka and Kyoto.
In 1984, Ascanio opened Galeria Oscar Ascanio in Caracas, Venezuela. Through this venture Ascanio worked with various contemporary Latin-American artists such as Alejandro Otero, Jesus Soto, Victor Lucena, Edgar Negret, Lina Sinisterra, Francisco Salazar, Karl Weidmann and Carlos Cabeza. He also featured international artists that included Bernar Venet, Bernard Aubertin and Fernando Mignoni. Today, Galeria Oscar Ascanio is considered one of Venezuela's most important and influential galleries.
Now, Ascanio prepares to open a second gallery in Miami's Wynwood Arts District entitled, O. Ascanio Gallery. His goal is to spotlight various international artists using his latest venture as a catalyst. The gallery, located at 2600 NW Second Ave., is slated to open September 11, 2010.
Oscar is currently a member of the Wynwood Arts District Association (WADA). He has two sons: Nicolas, 27, and Alfredo, 20. Both are involved in their father's business and will help run the gallery as Ascanio commutes between Miami and Venezuela.
image information:
Title: "Amour supreme"
Dimensions :. 200 cm x190 cm
Acrylic on canvas
Year: 2007.NY
Copyright of the photo: Ricar2 Photography.