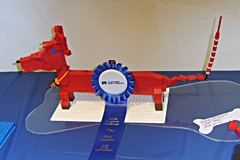 See 70 LEGO Sculptures Made by Florida Residents for the Center's Florida BRICK Creation Challenge, Aug. 7 – 15, 2010
In conjunction with the exhibition Nathan Sawaya: Replay
Florida BRICK Creation Challenge
Awards presentation: Sunday, Aug. 15, 2010
Art and Culture Center of Hollywood
1650 Harrison St.
Hollywood, FL 33020
On exhibition: Aug. 7 – 15, 2010
70 Florida residents created art sculptures using their own LEGO® pieces to compete in the Center's fun state-wide contest and exhibition. These works are on display in the Center's galleries.
Contestants will be recognized in each entry category (ages 6-10, 11-17, 18 and up; Teams/Families) for Most Creative, Most Colorful, and Most Complex. Individual winners will receive LEGO gift cards. Team/Family winners will receive a gift certificate to enjoy a pizza party.
For more information, visit ArtAndCultureCenter.org/brick-challenge.