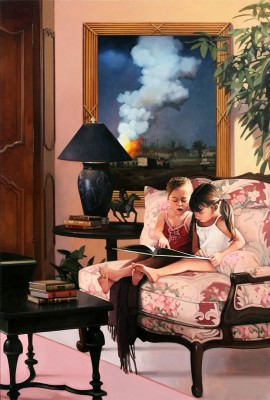 Aaron Morgan Brown Goes Beyond The Narrative Into 'Magic Realism' For New Exhibition At 101/Exhibit
Caught Between the Physical and Metaphysical, "Arcana Du Jour" Debuts September 11
VIP reception from 7 p.m. to 10 p.m.
101/exhibit is located at 101 NE 40th Street, in the heart of Miami's Design District.
Although Aaron Morgan Brown uses a narrative structure in his paintings, he denies being a "storyteller." Brown considers his works as representations of "constructed dreaming," using his own perception and memory to create alternative realities. Brown will bring his evocative paintings to 101/exhibit for an exhibition entitled Arcana Du Jour beginning Saturday, September 11, with a VIP reception from 7 p.m. to 10 p.m. at which the artist will be available to discuss his art with guests. The exhibition then runs through October 6, 2010.
Showing an interest in the subjective experience from an early age, it was only natural for him to gravitate toward the visual and performing arts. Brown uses his own experiences to create images of a reality that is not likely to exist. Whether he is juxtaposing the commonplace with the surreal or the fantastical with the everyday, Brown uses this magical imagery to allow the viewer to create his or her own subjective experience – like an ellipsis that the viewer sets out to finish.
Although Brown's works are reminiscent of photorealistic documentations of the mundane, they go a step further, documenting the everyday of another reality. His paintings are technical representations of objects and environments that are easily recognizable, but not easily understood in their aggregate pictorial context.
Brown received his BFA from the University of Kansas, and his MFA from Syracuse University, graduating summa cum laude from both institutions and earning a coveted University Fellowship from Syracuse. He has received many awards over the years, including "Best in Shows" at the Masur Museum of Art, Monroe, LA; and the Ulrich Museum of Art, Wichita, KS; as well as prestigious grants from the Pollock-Krasner Foundation and the Franz and Virginia Bader Fund. He has participated in solo and group exhibitions internationally, including "Natural Geometry" at the Wallspace Gallery, Ottawa, Canada; "Constructed Dreaming" at the Strecker-Nelson Gallery, Manhattan, KS; "Museology" at Limbo Fine Arts, San Diego, CA; and "Between Realities" at the Principle Gallery, Alexandria, VA. His works are included in numerous private and public collections, including the Beach Museum of Art, Manhattan, KS; the Anderson Museum of Contemporary Art, Roswell, NM; and the Sweetwater Center for the Arts, Pittsburgh, PA. Brown's paintings have also been featured in a number of international publications, such as New American Paintings, Harper's Magazine, The Artist's Magazine and International Artist Magazine.
101/exhibit is a unique space dedicated to showcasing provocative art and, as such, will provide an ideal backdrop for Brown and his work. By pushing boundaries and dissecting the predictable, the gallery is quickly gathering a strong following of fine art tastemakers and trailblazers. Owned and operated by Jerome Shaw, Sloan Schaffer and Adam Wolfson, 101/exhibit strives to provide a dynamic gathering place unrestricted by era, locale, or convention. For more information on the exhibition or 101/exhibit, call (305) 573- 2101 or visit www.101exhibit.com.