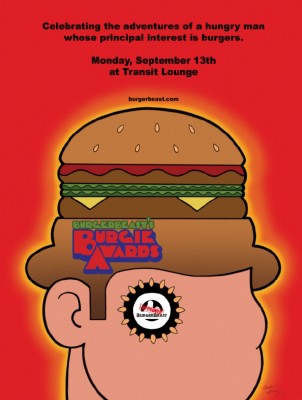 Reprinted with permission.
THE BURGER BEAST'S "BURGIE" AWARDS RETURN FOR SECOND CONSECUTIVE YEAR
Local Miami blogger BurgerBeast recognizes South Florida restaurants in awards ceremony in September
The event is open to the public
September 13 at 8 p.m.
Transit Lounge
729 SW 1st Avenue, Miami
Transit Lounge will create a special Burger Beast menu for the event.
To celebrate the second anniversary of the acclaimed Burger Beast blog, founder Sef Gonzalez will once again honor South Florida restaurants at the 2010 Burgies Awards.
The Burgie Awards drew a large crowd last year as local restaurants were awarded top honors in various food comfort food categories. This year's celebration will take place at Transit Lounge on September 13 at 8 p.m.
"Here we are, two years later and I'm still eating my way across South Florida. I hope everyone who reads BurgerBeast.com will come out and celebrate the two-year anniversary, as well as cheer on their favorite restaurant to win a Burgie," said Gonzalez.
For the awards Gonzalez will select the Best Burger in Dade and in Broward/Palm Beach, as well as the Best Frita; Best Pizza; Best Wings; and Best Hot Dog. He will also select winners in four new categories: Best Fries, Best Street Food, Best Non-Traditional Burger and Best Sandwich.
Burger Beast is a Miami food blogger who has been writing about his food experiences on since 2008 at BurgerBeast.com – the definitive source for concise honest reviews of comfort food in South Florida. Although the blog was created to find the best burger in Miami, it has since gone on to include other types of foods, food coupons and deals, pertinent news, recipes and reviews of products. Follow the Burger Beast on Facebook: www.facebook.com/burgerbeast and Twitter : @BurgerBeast.